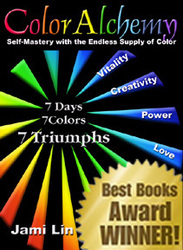 advanced thinking for infinite possibilities.
Lanham, MD (Vocus) August 12, 2009
Children can surround themselves in specific colors to facilitate the process of returning to school, and simultaneously be more successful. According to Jami Lin's new award-winning ColorAlchemy book, each color has a specific trait that can benefit the child at school. Colors are easily integrated into the child's personal style to help her focus on the color and to bring about its benefits.
In recent CNN & AOL articles, Carla Pihowich, brand manager with Memorex, said, "Color is a way to enhance personal style." As Jami Lin suggests, "Why not use color to style your personality?" Children can use the strengths of each color, as they incorporate them into their daily routine, to enhance their personal style and personality.
"And all kids love color!"
Red enhances physical stamina and strength. Orange heightens body appreciation and creativity. Yellow allows for greater self-confidence and personal power. Green increases joy and trust for deeper relationships. Blue improves mental clarity for clearer communication and decisiveness. Indigo awakens inner intuition and intelligence. Violet brings a deeper connection to spiritual love and bliss.
There are unlimited benefits when a child creates a colorful life:
Wearing and thinking of red allows the child an extra charge when in P.E. class or participating in any sports. It can also help him wake up after lunch.
Orange will allow the child's creative juices to flow as she works on science and art projects. It can also enhance her self-image, making her feel more comfortable in her own skin.
Yellow provides the confidence needed for cultivating those new back-to-school friendships and relationships. It can also provide the mind with confidence with tests and exams.
Green, which is the color of compassion will facilitate kindness to teachers and fellow students.
Blue can be helpful for developing study habits and focus, while also expanding the child's mind.
Indigo allows for enhanced intuition about the world all around. Absorbing information while observing the environment enhances any book learning at school.
Violet allows for an ability to establish those deep bonds found only in friendships that last a lifetime.
Children can easily incorporate these color traits into their back-to-school style, either by focusing in the color of the day, drawing on the color's attributes that they require in the moment.
Colors can be used as subtle reminders to focus on their energy, such as in a ring, bracelet, or hair tie. Children requiring a more vivid reminder can use stronger splashes of color, in shirts, socks, or scarves.
School tools can also be integrated to reflect personally supportive) colors. Backgrounds on cell phones or computer screens can be changed to reflect the color of the day, or the task needing to be accomplished at that moment.
For difficult classes, protect the books with yellow book covers, and use a yellow highlighter when reviewing notes. For those creative classes, focus on using orange or green. Change the pen color based on the needed color for that assignment.
For further ColorAlchemy tips to incorporate into back-to-school plans, visit Jami Lin at ColorAlchemy.com.
About us
Jami Lin's (JamiLin.com) new, award-winning ColorAlchemy book (ColorAlchemy.com), is heralded as "advanced thinking for infinite possibilities." She is a 30-year veteran of interior design. Her expertise evolved into Feng Shui (Feng-Shui-Interior-Design.com), international recognition as a master with six best-selling books, an online home-study certification program, and PBS-TV pilot. Color is her trademark.
Jami's media section provides the press with valuable, tailor-made content using color therapy, Feng Shui, design, and youth-enhancing wellness in: Lifestyle/General Interest, Family/Children, Business Success, Home/Garden, Health: Body, Mind, Energy Medicine, Youth-Enhancing Secrets, and Human Spirit/Awareness.
Jami is available for interviews.
Photographs available on request.
Media contact:
Joy Starr
941-276-8689
ColorAlchemy.com
Written by:
Andrea Coventry
585-482-7702
montessoriwriter.today.com/where-to-read-me
###