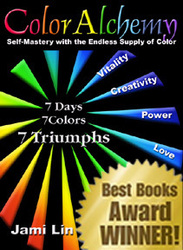 advanced thinking for infinite possibilities.
Washington, DC (Vocus) August 13, 2009
Vocus) August 12, 2009 -- Every color of the rainbow possesses certain traits that emotionally benefit a person in some way. Focusing on these colors each day can help parents be more relaxed during the stressful back-to-school season while being more beneficial to their children.
Jami Lin, award-winning author of her new ColorAlchemy book says, "from ancient healing therapies to the quantum understanding that color is the essence of life, merely thinking about color creates a positive experience…like catching a glimpse of a rainbow."
Red enhances physical stamina and strength. Parents can use red to provide the extra stamina they need to keep up with their children's demands and crazy schedules.
Orange heightens body appreciation and creativity. Parents can use orange to be more creative when working on science and art projects with their children.
Yellow allows for greater self-confidence and personal power. Yellow brings about confident parenting, which leads to self-reliant kids. Kids' confidence is important, especially when taking on school challenges.
Green increases joy and trust for deeper relationships. Green reinforces the love parents feel for their family. It also reminds them of the joys of spending time in nature. Studies show that spending time in nature allows brings about greater mental focus. The compassionate nature of green also allows for better communication between home and school.
Blue improves mental clarity for clearer communication and decisiveness. Blue will soothe the parents' frayed nerves, allow for calm control in tense situations. Relaxed parents can better calm children anxious about going back to school.
Indigo awakens inner intuition and intelligence. Indigo will allow for the confident use of intuition when applying expert advice to child rearing, especially in helping with homework and social situations.
Violet brings a deeper connection to spiritual love and bliss. Violet reminds parents that they are not alone in this venture. It will allow them to connect with teachers and school to help their children evolve.
Parents can easily incorporate the seven basic colors and traits into their back-to-school routines, either by focusing on the color of the day, or by drawing on the color's attributes that they require in the moment.
Use a specific color with the breakfast dishes, napkins, placemats, or tablecloths. Think of healthy foods that reflect those colors, and feed them to the family throughout the day.
Parents can also benefit by wearing a certain color on a given day or in preparation for a given situation. The needed color can be displayed in clothing or accessories. It can be a handkerchief tucked into a sleeve or a pocket. It is so easy to display a poster on the refrigerator or on the back of the door as motivation for everyone to see on their way out of the house in the morning.
When faced with a stressful situation, it is easy for a parent to shift into calm. They just need to take deep breaths, focusing on the particular color they require to release the stress and shift their attitudes.
For further ColorAlchemy tips to incorporate into back-to-school plans, visit Jami Lin at ColorAlchemy.com.
About us
Jami Lin's (JamiLin.com) new, award-winning ColorAlchemy book (ColorAlchemy.com), is heralded as "advanced thinking for infinite possibilities." She is a 30-year veteran of interior design. Her expertise evolved into Feng Shui (Feng-Shui-Interior-Design.com), international recognition as a master with six best-selling books, an online home-study certification program, and PBS-TV pilot. Color is her trademark.
Jami's media section provides the press with valuable, tailor-made content using color therapy, Feng Shui, design, and youth-enhancing wellness in: Lifestyle/General Interest, Family/Children, Business Success, Home/Garden, Health: Body, Mind, Energy Medicine, Youth-Enhancing Secrets, and Human Spirit/Awareness.
Jami is available for interviews.
Photographs available on request.
Media contact:
Joy Starr
941-276-8689
ColorAlchemy.com
Written by:
Andrea Coventry
585-482-7702
montessoriwriter.today.com/where-to-read-me
###