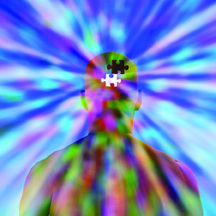 As they use the color of the day, it will help them be balanced in the color of the rainbow through the week
(Vocus) September 8, 2009
David Swindoll has been a Licensed Marriage and Family Therapist and Clinical Hypnotherapist for over thirty years. He has found the use of ColorAlchemy and color therapy to be highly beneficial in his mental healing practice.
"As patients experience difficulties, they will use color memory to help them beneficially modify behavior for personal growth. I like that it helps them diagnose and it also gives a way to balance and bring about patterns of change that are permanent," says David.
He uses ColorAlchemy by asking patients to identify their favorite colors. These indicate an individual's strengths. Then, by asking them to identify their least favorite colors, he can identify areas that need improvement. For example, a person who dislikes orange may be resistant to change and have a poor sex life. A person disliking yellow may have low self-esteem. Lack of red leads to lethargy. Use of blue leads to a calm focus, and better communication skills.
David applies these concepts to his color therapy program by following Jami Lin's color of the day. Monday is red, Tuesday is orange, Wednesday is yellow, Thursday is green, Friday is blue, Saturday is indigo, and Sunday is violet. "As they use the color of the day, it will help them be balanced in the color of the rainbow through the week," says David. Each day, emphasis is placed on the color, leading to each color's triumph. Red is vitality, orange is creativity, yellow is power, green is love, blue is focus, indigo is intuition, and violet is bliss. "That practice over 21 days will help them be more attuned and balanced and attract a more positive energy for themselves."
Bring about change by adding the needed color on an as-needed basis. Balance out the bad with the good, as a sort of internal Feng Shui exercise. Benefits extend into all aspects of life, including physical health and relationships. Use of color can be the equivalent of medicine. As David says, "It's like taking medicine, in a way, except there is no down side." Jami Lin adds, "There are no side effects or contraindications. There is an endless supply of color and according to ancient healing practices though quantum, energy and body/mind medicine, it can naturally be called upon when needed."
For more mind, body, and spirit benefits with color, visit Jami Lin at ColorAlchemy.com
About us
Jami Lin's (JamiLin.com) new, award-winning ColorAlchemy book (ColorAlchemy.com) is heralded as "advanced thinking for infinite possibilities." She is a 30-year veteran of interior design using home as a tool for emotional, mental, and spiritual health. Her expertise evolved into Feng Shui (Feng-Shui-Interior-Design.com), international recognition as a master with six best-selling books, an online home-study certification program, and PBS-TV pilot. Color is her trademark.
Jami's media section provides the press with valuable, tailor-made content using color therapy, Feng Shui, design, and youth-enhancing wellness in: Lifestyle/General Interest, Family/Children, Business Success, Home/Garden, Health: Body, Mind, Energy Medicine, Youth-Enhancing Secrets, and Human Spirit/Awareness.
Media contact:
Joy Starr
941-276-8689
ColorAlchemy.com
Written by:
Andrea Coventry
585-482-7702
montessoriwriter.today.com/where-to-read-me
###