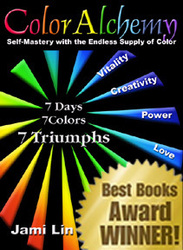 Each day of the week focuses on one particular, god-particle, color.
Miami, FL (Vocus) August 23, 2009
One common unifying theme that runs across the cultures is the concept of a white or Universal light that brings about peace, perfection, and consciousness. Each tradition assigns specific traits to the color s of light, but the fundamental meaning is the same. Science also observes the unifying power of color and white light, as it is the source of all that exists.
Sir Isaac Newton was the first scientist who recognized that white light could be broken up into the seven colors of the rainbow when it passed through a prism.
Edgar Cayce, world-renowned mystic, says, "The colors of the rainbow are radiations from the spiritual realm that form vibratory emanations of color or light. Colors are the shadows of the Creator's movement, the essence of the physical world, because matter is only spirit or energy condensed in a form which we call matter."
Jewish Kabbalists believe that light is another word for God and that the light force represents His energetic intelligence. Followers are seen to be the vessel into which the light of God is poured, thus filling them with White Light of which they too become. It is the same energy that turns night into day or Edison's light filling a room.
Christians believe white represents a pure soul, integrity, and a holy life; therefore, it is the color of their saints. It is the color used during sacred ceremonies such as Baptism, First Communion, and marriage.
Hindus believe white is the color representing pure consciousness and the light and manifestation.
Buddhists believe our true nature consists of pure white light which is the connection to self-mastery and enlightenment. Light is the universal cosmic intelligence.
Celtic, Greek, Druid, and Roman traditions tend to dress their goddesses in white during ceremonies.
Hollywood heroes dress in white, as do brides symbolizing purity at their weddings and medical professionals to symbolize health and cleanliness.
Newton science took color understanding another step and found that when those seven colors passed through a second prism, they were reunited back into that white light.
In Jami Lin's new, award-winning ColorAlchemy book, she combines these understandings to make using Spiritual Light an accessible tool that everyone can access to improve the quality of their lives. "Without getting into the Newtonian or the Quantum Science of light (said to identify the god particle by splitting the fundamental components of mass with the Large Hadron Collider - LHD), the benefits of color attributes can easily be harnessed." (According to Joel Achenbach in National Geographic, March 2008. "When atomic nuclei smash together, physicists hope to create states of matter abundant only during the first instants of the universe. One particle they seek is the so-called God particle. It is the missing evidence in a theory that explains a basic characteristic of the universe: how fundamental particles acquire mass.")
Chaotic lives cause personal white light to be dispersed. Individuals are left lacking in certain colors and are subconsciously searching to have them reunited again. Using ColorAlchemy, people can recapture that spiritual balance.
ColorAlchemy focuses on the seven triumphs of the seven colors, in seven-day cycles. "Each day of the week focuses on one particular, god-particle, color." As Lin simplifies, "Following the sequence and simplicity of a rainbow, or Newton's prism, linking the essential, seven attributes of all human need and desire is as easy as remembering the days of the week. Think red-Monday for vitality, orange-Tuesday for pleasure, yellow-Wednesday for confidence, green-Thursday for love, blue-Friday for clarity, indigo-Saturday for focus, and violet-Sunday for spiritual connection. Simple."
Each day, meditate for two minutes on the color, by visualizing it while taking deep breaths. Instantly, color breathing allows for absorption with that color's benefit. At the end of the first week, all colors have been absorbed, bringing the inner white light and spirituality one step closer, just like Newton's prism returning all color to its source: White Light.
Colors can also be called upon in a time of need, through color breathing, or by surrounding oneself with the needed colors. Harness the power of the colors, and feel that sense of white peace take over.
For more benefits with uniting color, spirituality, and science, visit Jami Lin at ColorAlchemy.com
About us
Jami Lin's (JamiLin.com) new, award-winning ColorAlchemy book (ColorAlchemy.com), is heralded as "advanced thinking for infinite possibilities." She is a 30-year veteran of interior design using home as a tool for emotional, mental, and spiritual health. Her expertise evolved into Feng Shui (Feng-Shui-Interior-Design.com), international recognition as a master with six best-selling books, an online home-study certification program, and PBS-TV pilot. Color is her trademark.
Jami's media section provides the press with valuable, tailor-made content using color therapy, Feng Shui, design, and youth-enhancing wellness in: Lifestyle/General Interest, Family/Children, Business Success, Home/Garden, Health: Body, Mind, Energy Medicine, Youth-Enhancing Secrets, and Human Spirit/Awareness.
Jami Lin is available for interviews.
Photographs available on request.
Media contact:
Joy Starr
941-276-8689
ColorAlchemy.com
Written by:
Andrea Coventry
585-482-7702
montessoriwriter.today.com/where-to-read-me
# # #