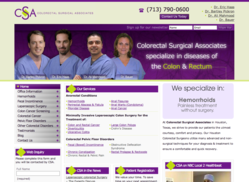 Robotic surgery is a very challenging procedure and only experienced surgeons well versed in laparoscopic and minimally invasive techniques are able to apply this technique for the care of their patients.
Houston, TX (PRWEB) February 15, 2012
At his Houston rectal surgery practice, Dr. Eric Haas says proper training is one of the most essential factors to look for in a surgeon for patients considering colon or rectal surgery. Dr. Haas, one of only a handful of surgeons in the U.S. trained in robotic-assisted colorectal surgery, has performed over 150 robotic laparoscopic surgeries between 2008 and 2010 and has been educating other surgeons in the performance of such procedures. The most recent statistics from the American Society of Colon and Rectal Surgeons (ASCRS) reports that colorectal cancer kills 60,000 people each year and affects about 140,000 people total. According to the ASCRS study, surgery is required in nearly all cases in order to achieve a complete cure, while between 80 and 90 percent of patients can be restored to normal health if the cancer is detected and treated in early stages.
With advanced robotic surgery, Dr. Haas says surgeons can achieve the highest level of efficiency and precision while improving patient safety and effective results. He says the innovative surgery improves physician control and precision by providing more accurate movements and reducing the physical demand of surgeons during long procedures. When performing rectal surgery, Dr. Haas says surgeons utilizing robotic instruments also have a much clearer view of their instruments and patient anatomy thanks to the enhanced 3D visualization afforded by the optics and 10 fold magnified view. By minimizing incision size and invasiveness, he adds that robotic colorectal surgery can help reduce the risk of infection and pain associated with surgery while also increasing the likelihood of a fast recovery and excellent results. "The robotic surgery platform is the most precise and technologically sound approach to achieve the optimal surgical resection for cancer, especially when involving the rectum and the adjacent pelvic structure."
However, because of the complexity of robotic laparoscopic surgery, Dr. Haas says patients should be sure to consult a surgeon who has extensive training in both robotic surgery as well as the particular procedure they are looking for, whether it be colon surgery or rectal cancer treatment. He also says seeking a practice that is dedicated to patient comfort and satisfaction through personalized care is another essential attribute. "Robotic surgery is a very challenging procedure and only experienced surgeons well versed in laparoscopic and minimally invasive techniques are able to apply this technique for the care of their patients."
About Eric M. Haas, MD, FACS, FASCRS
Dr. Eric Haas earned his medical degree from the University of Texas Medical School at Houston, where he was a member of the Alpha Omega alpha Medical Honor Society. He completed a general surgery internship at the M.D. Anderson Cancer Center and a portion of his general surgery residency at St. Joseph Hospital. Dr. Haas also received fellowship training in Colon and Rectal Surgery at The Methodist Hospital and The University of Texas affiliated hospitals. He is board-certified by both the American Board of Surgery and the American Board of Colon and Rectal Surgery. Dr. Haas is the Director of Laparoscopic Colon and Rectal Surgery and has received the 2005 Chief Resident Award for most outstanding Academic Faculty at the Methodist/St. Joseph Hospital General Surgery Residency Program. He is a national preceptor, advisor and mentor for laparoscopic colon surgery and travels throughout the world as an invited participant for the promotion of educational research and enhanced clinical outcomes in academic and professional programs.
Dr. Haas and the Colorectal Surgical Associates have three locations at 7900 Fannin Suite 2700 in Houston, TX, 16605 Southwest Freeway Suite 430 in Sugar Land, TX, and 11914 Astoria Blvd. Suite 320 in Houston, TX, all of which can be reached at (713) 790-0600. Dr. Haas can also be contacted online via the website houstoncolon.com, drerichaas.com, or facebook.com/houstoncolon.
###