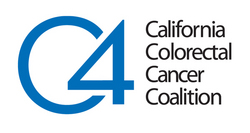 There are many ways to get screened
Sacramento, CA (PRWEB) October 29, 2008
To prevent more deaths and suffering from the third most common cancer in California, the California Colorectal Cancer Coalition (C4) recently held its first community forum, calling for a 10 percent increase in the rates of colorectal cancer screening. C4 was formed in 2007 to increase access to colorectal cancer screening and treatment, particularly for those who are underserved, uninsured, or underinsured.
Colorectal cancer is the second deadliest cancer in the United States (after lung cancer), but one of the most preventable through screening.
"Increasing screening rates just 10 percent in California would prevent approximately 8,000 deaths from colorectal cancer in our friends, family, neighbors and loved ones," said C4 board president Daniel 'Stony' Anderson, M.D., Kaiser Permanente, in his call to action that opened the forum. The increase of 10 percent would result in an additional 1 million Californians over age 50 being screened for colorectal cancer.
"Screening for colorectal cancer is the most cost-effective cancer screening program - more cost-effective than breast or prostate cancer screening," said Dr. Anderson.
"There are many ways to get screened," said Michael Potter, M.D., professor of Clinical Family and Community Medicine at University of California San Francisco. "The best test is the one you can get done."
Dr. Potter presented the segment titled Colorectal Cancer Screening - A Menu of Options, in which participants learned about the various tests. For those with no family history of the disease, guidelines state that screening should begin at age 50.
Colorectal cancer is known as a silent killer because symptoms only show up in the later stages. Regular screening, leading to diagnosis at an early stage, is the key to survival. Unfortunately, despite many different effective screening options, some of which are inexpensive and easy to do, Dr. Potter added, "screening rates are still horrifyingly low". This is especially true among those who are uninsured or underinsured and have no usual source of medical care.
Monica Brown, Ph.D., an epidemiologist with the California Cancer Registry, stated that "we've found that the stage of diagnosis is related to socioeconomic status." Dr. Brown's research showed that only 41.6 percent of those in the lowest socioeconomic group are likely to be diagnosed at an early stage, compared to 48 percent or more in other socioeconomic groups. This is tragic considering that, when found in the earliest stages, the survival rate is 91 percent, but this drops to just 9 percent in the later stages.
Susan McKee, a colorectal cancer survivor, who also spoke in her role as District Director for California State Senator Darrell Steinberg (D-Sacramento), emphasized the importance of education based on personal experience. She thought screening for colorectal cancer was supposed to be done at age 55, not 50. Despite regular medical care, she was screened five years late. By that time, cancer had taken hold, and she suffered through surgeries, radiation and chemotherapy.
"Education is key and really helps the insured," said Ann Rubinstein, a health rights advocate with the Sacramento-area Health Rights Hotline. "But even if we educate the uninsured they still won't be able to get the test."
The group is planning a lobby day in March to educate California state legislators about colorectal cancer - the low cost of screening and how it saves lives - and advocate on behalf of those who do not have access to screening and treatment. No experience is necessary, just a passion for saving lives. Interested parties can visit the C4 Web site to find out more.
Maps developed with research from the California Cancer Registry demonstrate disparities by California state senate and assembly districts.
About C4
According to the 2008 California Cancer Facts & Figures, approximately 14,080 new cases of colorectal cancer are forecasted to be diagnosed and 5,185 people are estimated to die from the disease.
Colorectal cancer is the third most commonly diagnosed cancer among California men and women and accounts for 11 percent of all newly diagnosed cancers. However, colorectal cancer is highly treatable when detected in the early stages through screening procedures and is even preventable.
The best test is the one you can get done.
Some of the screening tests available include the following:

High-sensitivity Fecal Occult Blood Testing (FOBT) yearly
High-sensitivity Fecal Immunochemical Test (FIT) yearly
Flexible Sigmoidoscopy (FS) every 5 years
Fecal Occult Blood Testing (FOBT) yearly+ Flexible Sigmoidoscopy (FS) every 5 years
Colonoscopy every 10 years
Double Contrast Barium Enema (DCBE) every 5 yrs
CT colonography (CTC) every 5 years
C4 encourages individuals to discuss the screening test that is best for them with their doctor.
The California Colorectal Cancer Coalition (C4) is an organization established to increase colorectal cancer screening rates, in an effort to decrease mortality rates associated with the disease. C4's mission is to save lives and reduce suffering from colorectal cancer in all Californians.
###