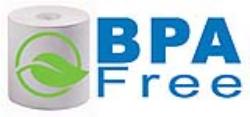 "We are committed to responding to our customer's requests for BPA Free products."
Danvers, MA (Vocus/PRWEB) December 15, 2010
POS Supply Solutions, Inc. (POS Supply) has introduced a line of Bisphenol A (BPA) FREE Thermal Paper Rolls as part of its Thermal Paper Roll offering.
To address the growing concern among customers and the end users of thermal papers over the potential human health effect of exposure to BPA in a wide variety of products, POS Supply is now offering a line of BPA Free thermal receipt paper rolls.
BPA is a mass-produced industrial chemical used primarily to make polycarbonate plastics and epoxy resins. In Jan 2010, the US FDA announced that recent studies provide reason for concern about the potential adverse health effects of BPA in infants and children, especially for applications with direct food. Scientists have recently shown that BPA is detectable in food and on some cash register receipts. An independent report by The Environmental Working Group has also found BPA on cash register receipts.
Some of the papers that are outsourced by POS Supply Solutions to fulfill customer requirements and used for retail receipts, gas pump receipts, ATM applications, and other point of sale transaction receipts may contain BPA depending on the source of the paper stock.
"We are working closely with our vendors from whom we purchase thermal grades containing BPA to assist them in finding alternatives to BPA if the scientific or legislative community recommends or requires such changes," said POS Supply's president Stephen Enfield. "We are committed to responding to our customer's requests for BPA Free products."
The National Toxicology Program (NTP) summarizes the results of NTP's study on the possible effects of BPA and provides an excellent source of unbiased information.
POS Supply is committed to offering safe products for their customers. You can order BPA Free Thermal Paper rolls from POS Supply Solutions with total confidence that you are receiving premium quality products at a great price.
About POS Supply Solutions
POS Supply Solutions provides point of sale and transaction supply solutions, serving a full spectrum of hospitality, retail, financial, gas station, medical, wireless and business transaction applications. Established in 1999, POS Supply Solutions' corporate facility is located in Danvers, MA with distribution warehouses strategically located across the United States. Over the past 11 years, POS Supply Solutions has worked with thousands of individuals and companies to ensure they receive the point of sale supplies needed for successful and efficient business operations.
Contact:
Alethea Copelas
Product Marketing Specialist
POS Supply Solutions
(978) 406-4230
acopelas(at)possupply(dot)com
http://www.possupply.com
###