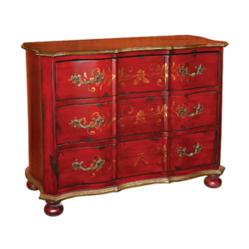 Gem tones are in and the design world is really starting to embrace the fun and freedom of bold, brightly colored spaces.
(PRWEB) July 18, 2012
HomeThangs.com – the Home Improvement Super Store has made their goal to deliver the right product to the consumer, with that in mind, shopping and home design tips, as well as special product selections are being introduced.
Gem tones are in and the design world is really starting to embrace the fun and freedom of bold, brightly colored spaces. Even high end designers are starting to mix funky, colorful accent tables and accent chests and cabinets into their slightly more somber collections. But these pieces aren't a free pass – like clothing, a lot of color and brazen patterns can be flattering if they're done right… or they can be a little busy, or even tacky.
Designers at HomeThangs.com introduced a style guide on how to walk the line and bring a playful, brightly colored accent table into a room and have it be a focal point rather than an eyesore.
1. Start Simple
When it comes to colorful design, the best way to play it safe is to pick a piece that comes in a solid, bright color. Chests are a good choice for this, because they have enough heft to do the color justice and don't demand a lot of ornamentation. The Butterfly Cupboard 84-9975 by Sterling is a pretty, sunny yellow, with delicate butterfly-styled knobs, and makes a nice breezy addition to a living space. Red, blue, and yellow especially are good colors to start with because they're bold enough to be attention grabbing, but because they're primary colors, they blend well with a wider variety of colors than a stronger mixed shade. Yellow is the most subtle, and can warm up almost any decor without overwhelming it, while blue can add a touch of calm and a delicate, airy feeling.
2. Start Small
It's easier to get away with a smaller piece in a bright, bold color than it is to get away with a huge one. Smaller accent tables emphasize the "accent" in accent table, especially in an average sized room where a larger piece might be a significant sized piece of furniture. For example, the Purple And White Striped Side Table 24-9256 by Sterling is a right size for a lamp, vase, or other decoration, and the color is dark enough that it can be played down or played up the circus-style stripes. A simple, elegant urn will make the purple all class, whereas something fun and funky, such as Banana Statue 93-3254 by Sterling will give the room a more playful feel.
3. Stripes
To go a step above a single color, while still achieving a simple, subtle design, a piece of accent furniture with simple vertical stripes in two different shades of the same color is the right choice. The lines can be clean or rustic and hand painted, such as the Nassau Chest 84-0801 by Sterling. The latter suggests a homey vibe – the slightly weathered, antiqued finish gives the chest a slightly "found" appearance that's perfect for an eclectic style.
The Variegated Parlor Chest 84-0643 by Sterling borrows the venomous colors of the coral snake for a look that's overtly a little alarming. To turn it from visitors-beware into a sweet conversation piece, it shouldn't be placed next to any other patterns, but each of the colors can be brought out throughout the room. This needs to be done subtly, though – a room full of stripes in those colors will just be loud, and would diminish the effect of the accent table.
4. Simple Patterns
To pull off an especially snazzy color in a fairly traditional room, one can look to history. The Wesley Chest 88-1341 by Sterling goes bold in red and gold, but tones the loud colors down a little bit with a slightly weathered finish and a hand painted vintage floral design. While the cherry red finish acts as a big exclamation point, and will make an excellent focal pieces.
This also works with small, repeating, intricate patterns. HomeThangs offers quite a few accent tables and cabinets with repeating damask prints, such as Orange Damask Cabinet 84-9970 by Sterling. These designs can be printed as a single large sigil covering the face of an accent table or chest, or can be used as a frequently repeated pattern over the whole surface. Like a vintage floral design, the pattern both helps break up the larger color, and gives a finer detail to draw the eye.
5. Funky Designs
To go bold with accent furniture, pattern can vary from Zebra Stripes to Rainbow Polka Dots. Choosing a wild pattern is a way to showcase a personality. Best paired with a limited palette, funky finished accent furniture is a great way to add a little fun and flair to the room.
HomeThangs.com is not only a home improvement superstore, it also provides expert design tips and a comprehensive shopping guide, taking the ideas from professional interior designers, and offering tips to the consumers on how to pick the products to best suit their needs.