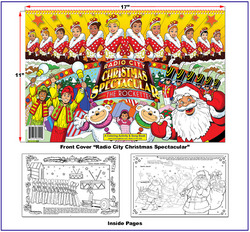 "Madison Square Garden Entertainment is proud to partner with RBCB in creating the first-ever Radio City Christmas Spectacular coloring and activity book," said Gail Stern, senior vice president of merchandising and licensing for MSGE
Saint Louis, Missouri (PRWEB) November 4, 2009
Today's children have enough gadgets, electronics or toys to keep them busy any hour of the day, but one of the oldest and simplest activities is still the most popular – coloring books! Madison Square Garden Entertainment, producers of America's #1 holiday show, the Radio City Christmas Spectacular, starring the Radio City Rockettes, a holiday tradition for more than 76 years with universal appeal and an iconic status, is partnering with one of the nations largest producers of coloring books, Really Big Coloring Books, Inc. (RBCB), to develop the Radio City Christmas Spectacular LapTop Panoramic Coloring Book®.
Wayne Bell, President of RBCB commented, "Every 18 months nearly 10 million children in America begin to scribble and color and now you can add learning about the Radio City Christmas Spectacular to the list. People have always loved and supported long lasting quality entertainment such as the Christmas Spectacular and our company is honored to partner with Radio City Trademarks to produce the licensed coloring book. At RBCB we add a classic, colorful and unique educational component to a child's coloring and learning process. Coloring books to our company are not a commodity, they are a brand name."
"Madison Square Garden Entertainment is proud to partner with RBCB in creating the first-ever Radio City Christmas Spectacular coloring and activity book," said Gail Stern, senior vice president of merchandising and licensing for MSGE. "Children who have fond memories of this beloved production will be able to relive them through the playful and festive content of this book. And for those who have never experienced the Christmas Spectacular before, the exciting and heartwarming images will allow them to share in the holiday spirit that this iconic production holds."
The book measures 17" wide x 11" tall with 24 pages of best quality paper available in coloring books – making it perfect for all mediums including, crayons, markers, pencils and even paints. Designed with a fun, exciting, historic and educational perspective; the book will become available in November at major retailers nationwide. The coloring books have a suggested retail of $4.99 - $6.99 making it family affordable and we hope the book will also become a family coloring tradition.
Really Big Coloring Books, ® Inc. headquartered in St. Louis, MO, has provided fundraising, retail and promotional opportunities through children's coloring books for over two decades and are known for their classic, unique and colorful book designs. The company has market-leading positions in its custom and trademarked coloring book brands. Their products are multi-cultural, bi-lingual and used by parents and children alike. RBCB operates four divisions; retail, fundraising, internet and creative development. The company ships globally and their products are manufactured in the USA. For more information please visit http://www.ColoringBook.com
MSG Entertainment
MSG Entertainment (MSGE), the live entertainment arm of Cablevision Systems Corporations, is a worldwide entertainment company recognized for its signature combination of event production and entertainment marketing. In addition to the nearly 700 entertainment concerts and events that take place each year at Radio City Music Hall, Madison Square Garden, The WaMu Theater at Madison Square Garden, The Beacon Theatre and The Chicago Theatre, MSGE has an exclusive co-booking agreement with Boston's Citi Performing Arts Center/ Wang Theatre. MSG Entertainment's live events include The Radio City Christmas Spectacular, which includes the national arena tour and the theatrical tour and has played to more than 43 different cities across North America. Additionally, MSGE has an ongoing partnership with Cirque Du Soleil to create new content and productions for its venues. Wintuk, which premiered in 2007, was built exclusively for the WaMu Theater at Madison Square Garden and runs every holiday season. More than six million people attend MSG Entertainment branded events annually including concerts, special events, and family attractions.
###