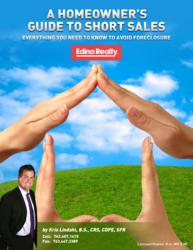 "...effective Nov. 1, 2012, and allow a homeowner with a Fannie Mae or Freddie Mac mortgage the ability to sell their home in a short sale even if they are current on their mortgage, as long as they have an eligible hardship,"
Columbia Heights, MN. (PRWEB) August 28, 2012
The Columbia Heights Short Sale Agent Kris Lindahl uses the Internet to publish information about the current short sale guideline changes for Fannie Mae and Freddie Mac. Kris Lindahl has combined the Internet with Real Estate, especially the short sale process, to provide homeowners with information about the short sale process.
"On August 21, 2012 the Federal Housing Finance Agency (FHFA) made the announcement that Fannie Mae and Freddie Mac were going to issue new, clearer guidelines to their mortgage servicers which would consolidate and align the existing short sales programs into one standard short sale program," Kris Lindahl reports. Kris continues to explain, "These new streamlined program rules ease the process for servicers and lenders to qualify eligible borrowers for a short sale."
"The streamlined guidelines, are effective Nov. 1, 2012, and allow a homeowner with a Fannie Mae or Freddie Mac mortgage the ability to sell their home in a short sale even if they are current on their mortgage, as long as they have an eligible hardship," Kris Lindahl a top Columbia Heights Short Sale Agent, reports these changes released in the FHFA press release of August 21, 2012. Kris Lindahl adds, "Servicers will now be able to expedite the processing of a short sale for borrowers with hardships, like a death of a borrower or co-borrower, divorce, disability, or relocation for a job without any additional approval from Fannie Mae or Freddie Mac."
"These new guidelines demonstrate FHFA's and Fannie Mae's and Freddie Mac's commitment
to enhancing and streamlining processes to avoid foreclosure and stabilize communities," recounts the FHFA Acting Director Edward J. DeMarco in a August 21, 2012 press release. "The new standard short sale program will also provide relief to those underwater borrowers who need to relocate more than 50 miles for a job."
"The experienced Kris Lindahl short sale team can take care of any Minnesota short sale, or for people looking for a Wisconsin short sale should visit the WisconsinShortSaleCalculator.com website," Kris Lindahl reports. Kris Lindahl also provides all the information about a short sale process, in the newly published comprehensive "Homeowners Guide To Short Sales" book.
Download a copy of the "Homeowners Guide To Short Sales" at the HomeownersGuideToShortSales.com website. Call Kris Lindahl at 763-447-3925 or visit the MNShortSaleCalculator.com or WisconsinShortSaleCalculator.com website for more short sale information.