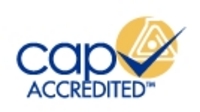 Dr. Gail Whitman-Elia was congratulated for the excellence of services being provided.
West Columbia, SC (PRWEB) February 3, 2011
Columbia Fertility Center, Advanced Fertility & Reproductive Endocrinology Institute's Laboratory, West Columbia, South Carolina, has been awarded accreditation by the Accreditation Committee of the College of American Pathologists (CAP), based on the results of a recent onsite inspection.
The laboratory's director, Gail F. Whitman-Elia, MD, HCLD (ABB), was advised of this national recognition and congratulated for excellence of the services being provided. Advanced Fertility & Reproductive Endocrinology Laboratory is one of more than 7,000 CAP-accredited laboratories worldwide.
The CAP Laboratory Accreditation Program, begun in the early 1960's, is recognized by the federal government as being equal to or more stringent than the government's own inspection program.
During the CAP accreditation process, inspectors examine the laboratory's records and quality control of procedures for the preceding two years. CAP inspectors also examine laboratory staff qualifications, as well as the laboratory's equipment, facilities, safety program and record, in addition to the overall management of the laboratory. This stringent inspection program is designed to specifically ensure the highest standard of care for all laboratory patients.
About The College of American Pathologists
The College of American Pathologists is a medical society that serves more than 17,000 physician members and the laboratory community throughout the world. It is the world's largest association composed exclusively of Board-certified pathologists and is widely considered the leader in laboratory quality assurance. The College is an advocate for high-quality and cost-effective patient care. More information about the College can be found at http://www.cap.org.
About Advanced Fertility and Reproductive Endocrinology Institute, LLC
Formed in Columbia, SC, by former University of South Carolina Medical Professor, Dr. Gail Whitman-Elia, Columbia fertility center, Advanced Fertility, is today a leading fertility clinic in the Southeast. Recognized by an independent, non-profit, judging panel for her compassionate care, Dr. Whitman-Elia leads a talented team of fertility professionals who have a singular focus, to help patients reach their goal of becoming parents. As the only Columbia fertility center offering full-service to patients, Advanced Fertility offers a broad range of therapies for infertility. In the years since its inception, Advanced Fertility has quickly grown to be recognized in the top 2% of fertility clinics nationwide.
# # #