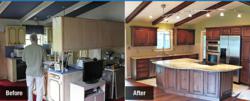 If you are going to stay in your current residence, rather than sell, now is a
great time to tackle those upgrades to bathrooms, basements and kitchens to enjoy in the moment
Columbus, OH (PRWEB) May 22, 2012
Spring has sprung and as the economy continues to mend - home owners, now more than ever in recent years, are starting remodeling projects again. The National Association of Home Builders forecasts residential remodeling expenditures for owner-occupied improvements will increase nationally by 8.9 percent in 2012 and another 11.4 percent in 2013. Tim Grywalski, owner and principal of Columbus, Ohio-based Precision Building & Remodeling, LLC, says "now is the time to embrace some of the back burner projects. If you are going to stay in your current residence, rather than sell, now is a great time to tackle those upgrades to bathrooms, basements and kitchens to enjoy in the moment."
In researching further, we have found that realtors are also stating the usual selling points of the home to be kitchen, bathrooms, and recently basements or recreation areas in homes. Though the volatile building community is still struggling to rebound, material costs are beginning to climb while labor wages are still staying somewhat flat over the last 2 years. People that have been putting projects off that want to do a project should consider the low interest rates available for home equity lines and the low priced incentives from the contractors out there to get these projects done in early 2012.
To find that right home remodeling contractor in a struggling economy, we urge you to do that due diligence on the front end and make sure, you as a homeowner are asking the right questions. In speaking with Tim at Precision Building and Remodeling further on what separates home remodeling companies from another, his comment was; "Find out if they are licensed, insured, past work that was completed, do they have referrals, are there warranties?" Tim states "if you find hesitation on the response from the contractor, then you should probably continue on your search for the right partner to enhance your home remodeling project.
Whether you need organized storage, a comfortable space to relax, or room to accommodate a new hobby - finishing an area in your basement is one of the easiest and least expensive way to expand your home, Grywalski says. From man caves and wine cellars to kid cubbies and simple shelves, experts like Precision Building & Remodeling will help get your project done on design, on time and on budget.
Precision Building & Remodeling is a family-owned business that will care for your home like it was their own. With more than 35 years of experience including everything from vintage updates, customs from scratch and additions to expand - Precision will work with you to design, layout and build to your exact specifications. To find more information on the best choices for you and your home, please call 614-486-5261 or visit http://www.precisionbuilding.net or email precisionbuilding(at)wowway(dot)com.