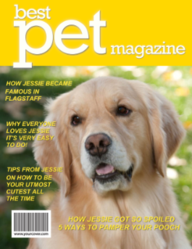 This is a great gift for someone who is hard to buy for as it is unique to their 'special' pet. Many people thought the cover was real and want to get one for their pet too.
Wilton, CT (PRWEB) April 15, 2013
Although there were nearly 50 fake magazine covers from which to choose, YourCover customers agreed that Lori H of Flagstaff, AZ had created the best magazine cover in the month of April. Lori's magazine cover featured a photo of her beautiful Golden Retriever, Jessie. Each headline on the cover was customized to be about Jessie and her owner. Lori had also made a second cover for her other dog, Dylan, but Jessie won out in the Cover of the Month competition.
YourCover has been conducting the Cover of the Month contest since 2007 and Jessie is only the second dog to grace the winning cover. For her efforts, Lori will receive a free magazine cover print and wood frame to celebrate a future special event. Although the Cover of the Month competition began in 2007, YourCover has been offering fake magazine covers since 2000.
YourCover fake magazine covers are unique,personalized gifts for celebrating all types of special occasions including birthdays, anniversaries, team sports, coaches, and holidays. With 80+ choices, YourCover has a magazine cover template to fit every type of event or personality. With an average review rating of 4.7 out of 5 stars, YourCover customers agree that a YourCover magazine cover gift is a special gift.
To make a magazine cover, users simply choose a magazine cover template, upload a photo and then customize the headlines using the online editing tool. A fake magazine cover can be made in minutes and delivery of a photo file download for self-printing is instantaneous - the perfect solution when a last minute gift is needed. For those with more time, YourCover can print and frame the fake magazine cover. Order processing time is fast as is delivery.
Congratulations to Lori and Jessie - the YourCover April 2013 Magazine Cover of the Month winners.