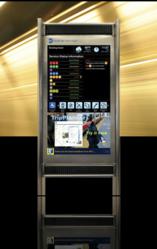 super user friendly
Medfield, MA (PRWEB) July 20, 2012
Comark announced today that the Intelligent Transportation Society of New York (ITS-NY) awarded the Outstanding Project of the Year Award in Advanced Traveler Information Systems to the On The Go! Travel Station/Kiosk. The Kiosk was developed by a team comprised of Comark Corporation, Cisco Corporation, The Metropolitan Transportation Authority (MTA), New York City Transit (NYCT), Metro-North Railroad (MNR), Long Island Rail Road (LIRR), and Antenna Design.
This pilot project was honored as a "first in the world" interactive, touch screen travel information kiosk, that is "super user friendly," has an advanced design and uses an innovative concept of centrally feeding real-time information about transit services in New York City. The On The Go! Travel Station Kiosk also includes applications that provide additional travel information, such as local history, shopping and dining options, provided by the third-party applications such as Zagat, myCitiapp, and History Bus. As added features, the screens provide both news and weather information.
Engineered and manufactured by Comark Corporation, the stainless steel kiosk and its components are extremely durable and easy to clean and maintain. The sleek, yet rugged, stainless steel enclosure supports a large 47" touch screen display, offering users information about their entire trip, route planning with Trip Planner, real-time subway service status, escalator & elevator status and local neighborhood maps.
About Comark Corporation
Comark Corporation is a designer and manufacturer of high-performance, ruggedized computer solutions for Kiosk, Digital Signage, Military, Mobile, Building Automation and Industrial Automation market segments. The company is driven by innovative designs and over 30 years of expertise in designing custom, high-performance computers and displays. Seamless integration with state-of-the-art software and network applications deliver dynamic solutions engineered for customer-specific requirements.
For more information, visit http://www.comarkcorp.com or contact Scott Plesh at 508-359-8161 ext.115 or email at splesh(at)comarkcorp(dot)com.