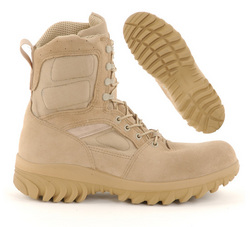 Commenting on the new combat boot line, Apelgear's President said, "Our customers are primarily military and law enforcement professionals who need quality, technologically advanced and comfortable combat boots for optimal protection in harsh climates.
Fort Knox (PRWEB) September 13, 2010
Apelgear.com announces adding new combat boots to their desert combat boot selection and is now offering Altama® Boots.
As an authorized dealer of Altama® boots, Apelgear is proud to offer Altama's boots since they are known for producing high performance desert combat boots and tactical boots with an advanced level of comfort for law enforcement and military professionals.
Apelgear is pleased to work with Altama® as a leader in the combat boot industry for using technically advanced high end materials available in the market using lightweight, heat resistant styles customized for U.S. military soldiers. The Altama® combat boots were designed to reduce fatigue and improve performance when working in desert conditions U.S. soldiers experience in Iraq and Afghanistan.
The Altama® combat boot line was especially designed for men and women who serve in U.S. military branches. The combat boots provide maximum comfort in harsh environments and conditions. Their high quality standards provide U.S. military and law enforcement professionals with exceptional durability, slip resistance, traction and ultimate comfort.
The new Altama® combat boots line is available on http://www.Apelgear.com at competitive prices. Apelgear stands for approved protective equipment list and gear, meaning all products sold by Apelgear.com are approved by the U.S. military. In addition, all of the protective gear sold by Apelgear is especially designed for law enforcement professionals, U.S. military personnel and private security agency professionals.
You can find Apelgear on Facebook and Twitter where the Apelgear professional staff communicates daily sales and special deals for combat boots, protective sunglasses and and protective eyewear gear.
###