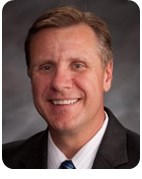 I will see to it that Telarus becomes Comcast's number one distributor.
SANDY, UT (PRWEB) April 18, 2013
Telarus, Inc., the premier telecom master agent and patent holder of real-time carrier quotes, announced today the hiring of Lanny Gray as its new VP of Business Development with a focus on supplier management. Lanny Gray comes to Telarus after four years at Comcast Business, where he served as the Director of Commercial Sales and Marketing for the Mountain (Utah and Arizona) region.
"We are extremely excited to have Lanny join our executive team," commented Adam Edwards, president of Telarus, Inc. "During his time at Comcast he demonstrated superior management and sales skills, but more importantly, he understands the channel. Having a tenured executive like Lanny leading our cable and fiber strategy and managing supplier relationships at a high level is going to be key for us going forward as we continue to focus on becoming the preeminent distributor of enterprise data, voice, and cloud services."
Lanny Gray has a long history in telecom, working for industry-leading companies like Comcast Business, Broadweave (Veracity), American Fiber Systems (Zayo), Level 3, and XO Communications. While at Comcast Mr. Gray helped build and manage the local SMB and enterprise fiber sales forces who experienced consistent growth during his tenure.
"I am excited and honored to join the Telarus executive management team," added Lanny Gray, Telarus' new VP of Business Development. "I have always admired Telarus from a distance and I'm thrilled the time has finally come that I can be a part of their management team. They clearly have differentiated themselves in the telecom distribution space and I'm looking forward to helping Telarus continue its exponential growth."
In his role as VP of Business Development, Mr. Gray will be responsible for all high-level supplier relationships, including sitting on advisory boards, formulating go-to-market strategies, high-level escalations, strategic marketing initiatives, and new supplier contract negotiation.
"Lanny Gray is a difference-maker," commented Patrick Oborn, VP of Marketing for Telarus, Inc. "Over the years we've worked hard to develop a culture of innovation and to treat our agent and supplier partners with honesty and integrity. Lanny will fit right in and his impact will be immediate on our business. We look forward to leveraging his talents and connections to help us accelerate the growth of our company."
About Telarus
Telarus, Inc., a master telecom agent that holds contracts with the world's leading commercial telecommunication carriers, makes it easier and more profitable for solution providers, VARs, and MSPs to sell and source voice, data, and ethernet over copper WAN solutions. Our patented GeoQuote platform combines real-time carrier pricing with advanced research features and branded proposals. Telarus' experienced Sales staff is strategically focused on enterprise WAN and high-capacity bandwidth solutions, making it easier to find the best offer, every time. For its part, Telarus has been named the top Master Agent by the members of the Telecom Association in each of the past three years, the first and only company in the carrier channel to accomplish this feat. Whether you are a top producer or a voice-and-data expert just starting out on your own, there is a place for you in the Telarus community. For more information on the Telarus partner program, please visit http://www.telarus.com or call the new partner hotline at 877-346-3232.