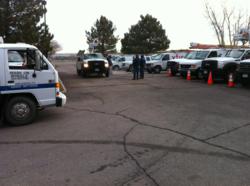 We often schedule our crews to meet the specific needs of our clients,
(PRWEB) June 29, 2013
Comcast has very specific needs for washing their service trucks. They needed a company to go to each of their 10 locations across the state, wash the trucks while their technicians attend the weekly meeting, and provide water recovery to make sure none of the wash water leaves the site.
Each Comcast location has between 30 and 200 trucks to be washed. Washing that many trucks in less than two hours requires multiple crews and efficient procedures to get the job done on time. With water recovery required, no other pressure washing company in Colorado could do the job.
Presentation is important to any service business and Comcast has high standards. Their technicians even where foot coverings over their boots when they're inside the clients homes.
And dirty trucks don't fit the company image Comcast presents. But with their busy schedules, sometimes the technicians don't have time to get their trucks washed. Comcast wanted to provide the truck wash as a time saving benefit to their technicians.
"We often schedule our crews to meet the specific needs of our clients," said Joel Shorey, President of Wash On Wheels. "Comcast can't have their technicians sitting around waiting for their trucks to be cleaned. Being able to get the job done on their schedule is one of the main reasons our clients call us."
With 28 years experience in Denver, Wash On Wheels knows how to deal with special scheduling for their clients. They specialize in EPA water recovery and include it with their pressure washing service at no extra charge.
Wash On Wheels is Colorado's largest mobile pressure washing company. In business since 1985, they have an A+ rating with the Denver/Boulder BBB. The company's services include pressure washing commercial buildings, sidewalks, parking garages, restaurants, and graffiti removal. Their services also include car washing for auto dealers, fleet truck washing, boat cleaning and interior and exterior detailing. They specialize in emergency grease and oil spill cleanups. Wash On Wheels services the Denver metro area and Front Range Colorado. For more information, contact Joel Shorey at 303-937-7181 or visit http://www.washonwheels.net.