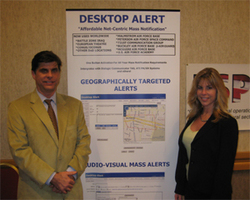 that position our nation's finest for continued success.
Washington, D.C. (PRWEB) March 20, 2009
Desktop Alert, Inc., supported by representatives of Team Notification's integration and distribution alliance, presented the state of its NetCentric Alerting and Notification System capabilities at the Air Force's event - 2009 Worldwide C2 Conference, 16-20 March 2009, San Antonio, Texas. The USAF 2009 C2 Conference provided the venue for over 450 elite joint military and civilian operators, and leading edge industry technology providers, to collaborate in developing the vision for the Command and Control mission. In support of the tactical and strategic forces of the United States Air Force, and Department of Defense supporting commands, Desktop Alert was proud to participate as a sponsor of the 2009 Worldwide C2 Conference.
The first general session held in the River Walk's Hyatt Regency Convention Center, featured a keynote address by Brig. Gen Joseph D. Brown IV, Deputy Director for Nuclear Operations, U.S. Strategic Command, Offutt Air Force Base, Nebraska. General Brown highlighted the need for a tight relationship between the command elements and the service's operators supporting both the nuclear and conventional forces. He related that the service's joint mission relied on the Command and Control community to maintain a high state of proficiency in the growing breadth of technical complexity in the Air Force's global mission. He also described his personal experiences with Command and Control warriors in his role of Wing Commander, and supported by command staff in his position at US STRATCOM. In addition to the keynote speakers, the conference attendees were able to interact with the latest innovations in C2 technologies and systems in the Vendor Display mall.
"Spending time with over 450 elite joint military, civilian operators and the Notification Team provided invaluable insights into the challenges of new technology deployments to military networks. Moreover, experience gained from such deployments has provided insights about new services and areas of need. The information derived from current field deployments benefits the whole community leading to systems that are more cost effective, reliable, and easier to use in real world conditions. Future systems demands future thinking and with the continued involvement of users and partners, Desktop Alert is working to deliver the future today." said Desktop Alert Chief Technologist, Buddy Ackerman.
"This event has allowed us to expand the C2 community's knowledge in wide-bandwidth alert and notification capabilities based on lessons learned and knowledge gained. Desktop Alert continues to pioneer "mass notification technologies" that position our nation's finest for continued success." said Desktop Alert President, David Zadick.
Desktop Alert and representatives of Team Notification alliance members were on hand to present insights to the developing need for a cohesive NetCentric alert and notification architecture required to support today's C2 professionals.
About Desktop Alert Inc:
Desktop Alert since its arrival to the market six years ago is now positioned as the best value-priced command-wide mass notification platform available to Department of Defense entities. In many cases Desktop Alert's full implementation & support costs combined are less then that of other companies maintenance costs alone. Desktop Alerts commercial off-the-shelf (COTS) solutions deliver a single point emergency console interface that unifies and manages existing alerting systems such as PA/GV, telephones, Blackberry's, e-mail and more.
# # #