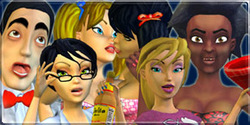 The game's art is extremely important. People love the BoneTown characters and we knew we wanted to continue showcasing them in a comical way
Albuquerque, NM (PRWEB) September 23, 2009
D-Dub Software, creator of the action adventure video game BoneTown, is pleased to announce the launch of its new and enhanced BoneTown website. The new BoneTown.com streamlines and improves upon the old site's content, to better serve the needs of the company's customers and business partners. Besides showcasing a range of new art content and more interactive subject matter, the site brings superior sharing technology and an improved purchasing process.
"With the game's increased sales and consumer reach, we have decided to revamp BoneTown.com and really start to build the BoneTown community for the benefit of our members," says marketing director Maximus M. Baptist VIII. "We've added more user interaction along with a cleaner, more 'gaming' feel in order to reach a more mainstream audience, which we feel is our core demographic."
Art content was an essential part of the website redesign. "The game's art is extremely important. People love the BoneTown characters and we knew we wanted to continue showcasing them in a comical way," says art director JB. The new art, including the site's overall design and rotating "Character ID Cards," was created to give new customers a better sense of the world of the game while keeping current customers entertained long after their initial introduction.
Current customers also have more to look forward to in the site's enhanced community features. Members can chat with other members on the BoneTown forums about game play, future game suggestions and life outside the game. They can also now follow BoneTown on its YouTube, MySpace, Facebook and Twitter pages, and even get BoneTown news as it happens on the site's homepage.
Visitors can now also order BoneTown merchandise directly from the site, including exclusive music from the game. D-Dub developers have greatly improved the shopping and purchasing process by adding new streaming game trailers, simplifying the shopping cart, and supplying updated support pages that make it easier and more enjoyable for new customers to begin their BoneTown experience.
"We have put a lot of hard work into the new site, and we are really excited for its launch and can't wait to see users' reactions," says Baptist VIII. "We have made the new BoneTown.com truly represent the game and I think people are going to really enjoy it."
The new BoneTown.com also offers additional opportunities for advertisers. The site features new advertisement opportunities that will be open to businesses looking to reach BoneTown's core consumer demographic--18-45 year old males.
BoneTown is currently being sold online at BoneTown.com in a box version ($49.99) and a digital download version ($39.99). The game is also available in adult stores worldwide.
About D-Dub Software:
Founded in 2004 in Albuquerque, NM, D-Dub Software is not your average video game company. When they started the business, Hod, JB, and Max were recent college graduates and knew that they didn't want to be a part of the corporate culture. They have embraced the independent business spirit and developed BoneTown by their own rules.
Contact:
Maximus M. Baptist VIII
D-Dub Software Press Release
http://www.d-dubpress.com/
+1 (505) 730-0529
P.O. Box 4308
Albuquerque, New Mexico
87196
###