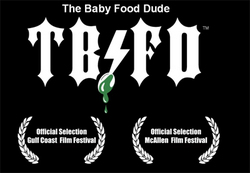 My mommy told me so, if you sit on cold concrete you'll get hemorrhoids.
New Braunfels, TX (PRWEB) October 10, 2008 -
The Gulf Coast Film Festival has selected the new docucomedy feature The Baby Food Dude to close this year's selection of films. The film documents a man's relationship with his family over the course of a 40 day all baby food diet. It will run Sunday, November 16 at 6:10PM in the Slocomb Fine Arts Building on the Central Campus of the San Jacinto College in Pasadena, Texas.
Featuring brothers Brice "Bubba" Tea and Herb "Buddy" Tea, The Baby Food Dude is a film like no other. As a comedy movie, it does occasionally blur the lines between documentary and slapstick comedy. The movie features a slew of hilarious one-liners delivered by the Tea brothers, such as when Buddy quips, "My mommy told me so, if you sit on cold concrete you'll get hemorrhoids." In addition to the real brothers, their actual grandmother is also featured in the film as Bubba travels from his native Texas to California and back to collect Buddy and visit their 87 year old mother and new baby sister.
It is important to note that Brice "Bubba" Tea did actually complete the 40 day baby food diet and claims in the film to love jars of green beans. "Solid food sucks," he declares and he may be right. Over the 40 day period Tea not only lost 29.4 pounds his cholesterol level also dropped from 174 to 137. Over the course of the film Tea tries to convince the governor of California, whom he considers the "Alpha Male," to endorse baby food as the ultimate male food source.
The film, released by Made in the Garage Motion Pictures, LLC, features music by Tea's band, "The Cool Arrows." Stills, music and trailers can be found at TheBabyFoodDude.com.
The Gulf Coast Film Festival was delayed this year due to Hurricane Ike. Instead of running during September, it was moved to November 14 through 16. In addition to featuring The Baby Food Dude, the film festival was pleased to announce special guest Erin Grey. Additional information on the film festival can be found at GulfCoastFilmFest.com.
About The Baby Food Dude:
An independent docucomedy, The Baby Food Dude was shot during principle actor, director, and editor Brice Tea's actual 40 day all baby food diet. Combining real documentation of his weight loss efforts with the classic elements of a screwball comedy. A selection of both the Gulf Coast Film Festival and McAllen Film Festival, this off beat comedy movie is seeking distribution.
###