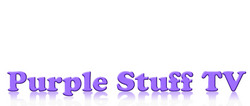 "You Get Your Purple Stuff Yet?"
Atlanta, GA (PRWEB) July 26, 2010
The next generation of young, hip and edgy sketch comedy has arrived. In the tradition of the Chappelle Show , Saturday Night Live, and In Living Color, this talented cast raises the comedic bar with a blend of Saturday Night Live, animation and music from the most popular DJs in the country.
After a successful launch on Globalgrind.com, Purple Stuff TV has decided to reward its followers by giving away a free Ipad to fans each week for the next three weeks beginning Monday, July 26th.
That's right, be one of the first fans of the next hit comedy series to be eligible to win.
In order to win, check out Purple Stuff TV at http://www.purplestufftv.com for instructions on how to win.
To 'get your purple stuff' watch the latest episodes and vote for your favorite one.
Purple Stuff TV is not just funny, it's hilarious.
Register to win at http://www.purplestufftv.com.
###