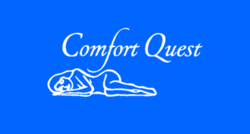 Navigation Nurses are very compassionate and dedicated people
Agoura Hills, CA (PRWEB) November 27, 2011
Comfort Quest, Inc. announced today it will direct an intensive marketing campaign Breast Cancer Navigation Nurses in North America.
The Side Sleeper Pillow was designed specifically for surgical recovery or breast pain relief. Most women experience breast pain after several types of chest surgery. The recovery pillow will help patients after surgeries such as Augmentation, Cancer, Open Heart, Mastectomy, or Lumpectomy.
Nurse Navigators play an essential role in helping a breast cancer patient through the medical process. They offer guidance, experience, and emotional support to women who have recently learned of their illness. They are instrumental in helping patients and guiding them through all pre-surgery procedures.
"Navigation Nurses are very compassionate and dedicated people," said Ben Kass, President of Comfort Quest, Inc. "They provide an invaluable service for women who have just been told they have breast cancer. The nurses we have spoken with truly understand their patients' confusion and need for help. They provide them with essential knowledge to them make critical decisions.
Custom Quest recently launched a new website dedicated to providing necessary information to breast cancer patients. It provides educational information and helpful links to additional education. The website is located at http://www.mycomfortquest.com/beprepared.
The breast support pillow is currently offered for $59.95 on the company's website. Comfort Quest already has a network of plastic surgeons, medical supply stores and certified fitters in the United States and Canada which will supply their patients with the Side Sleeper Pillow or direct them to Comfort Quest's web site at http://www.mycomfortquest.com.
Comfort Quest, Inc is a southern California based corporation located in Agoura Hills. The company intends to continue to develop post surgery products for women. The Side Sleeper Pillow is the company's first product in this category.
For additional information:
Ben Kass (818) 665-2012
President
ben(at)mycomfortquest(dot)com
http://www.mycomfortquest.com
Copyright© 2011 Comfort Quest, Inc.
###