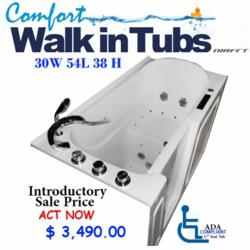 Comfort Walk in Tubs handpicked all the essentials and desirable optional features of an ideal walk in tub and placed it all into A1A Ultimate Edition Walk in Tub
Los Angeles, California (PRWEB) July 28, 2012
Comfort Walk in Tubs launches the A1A Ultimate Tub as the featured product on the company's website, proudly announcing the A1A Ultimate Edition Walk in Tub at the limited-time only rock bottom introductory price of $3,490.00.
Bob Zetz, Chief Finance Officer of Comfort Walk in Tubs, boasts that even at the regular price $4,990.00, "The A1A Ultimate is still the best-priced luxury walk in tub in the US market today." Mel Newman, Comfort Walk in Tub's Senior Sales Manager, substantiates this claim when he said "Comfort Walk in Tubs handpicked all the essentials and desirable optional features of an ideal walk in tub and placed it all into A1A Ultimate Edition Walk in Tub." Newman further enumerates twenty-one features and benefits of A1A Ultimate:
1. The A1A has the fastest fill time among walk in tubs: 4 ½ minutes. The average tub takes more than 15 long minutes to fill.
2. The A1A has a fast drain time: less than 80 seconds.
3. The A1A ADA compliant seat of a full 17 inches high.
4. The A1A ADA compliant slip-resistant seat and foot well.
5. The A1A comes with a leg-only massage option.
6. The electronic touch panel controls of the A1A have no frustrating springs to annoy the bather.
7. The rise below the door of the A1A is less than 6 inches.
8. The big inline water heater of the A1A keeps the heat constant.
9. The user operated thermostatic control valve prevents scalding. Set it and forget it, making mixing hot & cold water to maintain optimal temperature a thing of the past.
10. The A1A shell finish is used on luxury yachts.
11. The guitar shaped high-leverage door lock ensures easy closing and opening of the door.
12. The ADA compliant built-in safety grab bar is strategically located.
13. The ozone generator guarantees peace of mind about bacteria and germs.
14. All water automatically pumped out of the pipes after the bath.
15. Effective adjustable water pressure reduction from water jets.
16. Digital FM Radio for soothing music while bathing.
17. Comfort Walk in Tubs' website features an extensive photo gallery for viewing the tub from all angles.
18. Comfort Walk in Tubs provides a 10 Year Warranty on all parts and a Lifetime Warranty on door leakage.
19. Rugged stainless steel frame spanning the entire tub length, with 6 easy to adjust leg levelers.
20. Technical support is available 8 hours a day, 6 days a week.
21. Comfort Walk in Tubs has a stellar reputation with plenty of satisfied customers and an excellent BBB rating.
To learn more about the revolutionary A1A Ultimate walk in tub, download the brochure here: http://comfortwalkintubs.com/wp-content/uploads/2012/07/A1A-Ultimate-Edition-Features-with-pictures-and-description-7-27-121.pdf
About the Introductory Promo Offer of the A1A Ultimate Walk in Tub: Comfort Walk in Tubs offers two choices: Free delivery of the A1A for only $3,490.00, or Professional Installation of the A1A starting from $ 8,500.00
Contact Information:
Website: http://comfortwalkintubs.com
Email Address: info(at)comfortwalkintubs(dot)com
Toll Free Number: (888) 399-1211