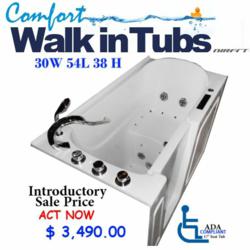 Comfort Walk in Tubs developed the A1A to be the ultimate tub in the US Market today. In terms of price and features, no tub can beat the A1A Ultimate Edition walk in tub.
Los Angeles, California (PRWEB) July 31, 2012
Comfort Walk in Tubs formally announced that effective July 30, 2012, the forty percent discount promotion for A101 walk in tub series has ended. A new and more enticing discount is replacing the A101 promotion. The company proudly presents the A1A Ultimate walk in tub with a rock bottom, introductory sale price.
Mel Newman, Senior Sales Marketing Director of Comfort Walk in Tubs, verified this announcement in an interview, saying "Our company wishes only the best for our clients and currently the best in our walk in tub arsenal is the A1A Ultimate Tub. We have developed the A1A to be the ultimate tub in the US market today. In terms of features, safety, reliability and luxury, no tub can beat the A1A. Comfort Walk in Tubs further sweetened the A1A deal with a substantial reduction in price."
The A1A Ultimate Walk in Tub is a product of a two-year development from Comfort Walk in Tubs. Having spent years in the walk in tub business, Newman understands the needs of the senior market, "On average, ordinary walk in tubs take an awful fifteen minutes to fill. Waiting too long for the tub to fill deters the elderly from getting the safety and health benefits that a walk in tub gives. A1A resolves this issue with its 4 ½ minutes fill time. Furthermore, the leg massage only function of the A1A ensures that the bather can start massage therapy in the lower extremities while the tub is only half filled with water. Whether using a half bath or a full bath, water massage therapy is available for the bather." Newman adds, "We have loaded the A1A with the most desirable features at the most affordable price. Our company invites our senior clients to shop around, list all the features of a walk in tub that they desire and compare it with our A1A tub."
Comfort Walk in Tubs is offering the A1A Ultimate at the introductory price of $3,490.00 for a limited time only. The company will announce the end of this introductory promotion. After the promotion period ends, customers wishing to own the A1A can purchase it at its regular price of $4,990.00.
To learn more about A1A Ultimate Walk in Tubs, visit http://comfortwalkintubs.com/fiberglass-walk-in-tubs/a1a-ultimate-edition/
Contact Information:
Website: http://comfortwalkintubs.com
Email Address: info(at)comfortwalkintubs(dot)com
Toll Free Number: (888) 399-1211
Related News from Comfort Walk in Tubs:
Comfort Walk in Tubs offers A1A Ultimate as the best priced premium walk in bathtub in the US market today. http://www.prweb.com/releases/comfort-walk-in-tubs/a1a-ultimate-promo/prweb9743299.htm