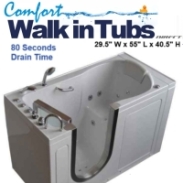 Comfort Walk in Tubs listens to the needs and yearnings of senior clients. In our efforts to answer each unique needs of the senior bather, we are indeed please that our walk in tub products and installation services garner positive clientele response.
Los Angeles, CA (PRWEB) May 13, 2012
In an interview with Mel Newman, Senior Sales Manager of Comfort Walk in Tubs, he relates the mission and vision of his company. "Fear of fall injuries drives seniors to abstain from a luxurious bath that is beneficial to their hygiene, relaxation and for some medical conditions. Comfort Walk In Tubs seeks to alleviate these fears and replace it with a worry-free bathing environment by the installation of Walk in Tubs."
Newman maintains that only a company that heeds the condition of seniors and the disabled can truly aid them in their bathing needs. He relates that "Comfort Walk In Tubs listens to the needs and yearnings of our elderly clients. In our company's efforts to answer each unique needs of the senior bather, we are indeed pleased that our walk in tub products and installation services garner positive clientele response." In connection with this, Newman recommends looking at the recent walk in tub testimonials in Comfort Walk in Tubs' website where a walk in tub client, Dona C. of Mentone of California expressed her sentiment about the company. She said that the company "is more than prompt, extremely hard working, emphatic and understanding of our needs".
Mel Newman catalogues the different benefits described by seniors and disabled clients as seen in the company's testimonial page. He also offers the company's explanation for the rationale of the walk in tub experience.
For safety and convenience.
Client, Grace Carr of Thousand Oaks, CA relates that "the hot water comes right away. With my back problems, I can't afford to fall, it's a real comfort.
Client M.B. Johnson of Laguna Niguel, CA states that "Very easy to get in and out. It's very comfortable. It heats up fast. No cold feet.
Newman explains "that walk in tub designs allow for easy access to the bathtub through a low step-in threshold door. As a mobility product, its design specifically targets the problem faced by seniors of safely entering and exiting the tub without the fear of falling, slipping or any untoward accidents associated with conventional bathtubs. The thermostatic valve also ensures a regulated release of hot water without the fear of scalding.
Health benefits: skin rejuvenation and muscle tension relaxation.
Client, Joan Spann of Santa Clarita, CA articulates "I'm really thrilled with it! My skin improved and is softer after the first soaking."
Client, D, Daugherty of New Rockford, Nevada conveys that, "It's really peaceful and soothing after being out in the garden. It seems to help the muscles."
Newman expounds that "modern designs and option upgrades have revolutionized the benefits derived from walk in bathtubs. Through dual hydro and air massage therapy upgrades, the bather enjoys rejuvenation of their skin. The deep massage, consistent with state of the art water jets, improves back problems and soothes aching and tired muscles."
For relaxation and ease of mind.
Client, C. Benner of Long Beach, California describes the walk in tub experience as "very relaxing. I feel like I'm bathing in Yellowstone".
Mel Newman explains that "through an upgrade of the wattage of the inline heater and some electrical modifications, water jets and air jets can work simultaneously in a prolonged hot bath without the addition of fresh hot water. This modification accounts for Mr. Benner's Yellowstone soaking experience."
Client, L. Davis of Gardnerville, Nevada claims that walk in tub from Comfort Walk in Tubs, "is the best investment he ever made."
Mel Newman stresses the aesthetic look of their premium line of tubs that "In addition to all of the safety and therapeutic benefits of our company's walk in tubs, its design is also classy. "
People who wish to verify the veracity of this press release can visit Comfort Walk in tubs' website at http://comfortwalkintubs.com and ask for referrals.
Recent Press Releases from Comfort Walk In Tubs Related to this Release
Comfort Walk In Tubs now offers an affordable alternative to walk in bathtubs' installation by converting conventional bathtubs to a walk in shower via a process called TubcuT. http://www.prweb.com/releases/comfort-walk-in-tubs/bathtub-shower-conversion/prweb9384622.htm
Comfort Walk in Tubs now supplies three additional high end acrylic walk in tubs for seniors. The walk in bathtub company boasts of the addition of the Two-Seater, the Elite and the Royal into its premium acrylic walk in tubs product array. http://www.prweb.com/releases/comfort-walk-in-tubs/acrylic-bath-tubs/prweb9268038.htm