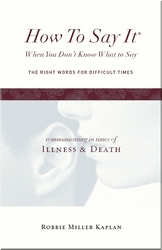 How To Say It® When You Don't Know What To Say: The Right Words For Difficult Times: Illness And Death
Vienna, VA (Vocus) June 22, 2010
Finding the right words at the right time isn't always easy. A helpful publication by Comforting Words website founder Robbie Miller Kaplan, "How To Say It® When You Don't Know What To Say: The Right Words For Difficult Times: Illness And Death," (2010) offers a solution - hundreds of suggestions on oral, written, and nonverbal communications that are sure to comfort those in need.
Upon learning that someone has lost a loved one, it's common to quickly respond by writing a sympathy letter. But waiting to send a condolence note is okay too. "It's in the weeks and months ahead, when mourning takes place, that people might most appreciate a sympathy note," says Robbie Miller Kaplan.
Kaplan offers other strategies for preparing heartfelt sympathy notes, which can be sent the traditional way – on printed cards or notepaper – or via technology, such as e-mail or online Guest Books.

Wait a day, a week or a few weeks to digest the news and collect personal thoughts before writing the note.
Begin with a sentence that expresses sadness for the loss. Use the sentences that follow to articulate personal feelings, memories, anecdotes, and any ways the deceased touched others and made a difference.
Draft the note first. Then, edit, revise and proofread before writing the final note.
Allow the note to sit for a day before sending it. Re-read it to ensure it reflects the true message that it is intended to convey.
Include the sender's address on the envelope – or the e-mail address in the online Guest Book; to make it easier for recipients to respond back, should the recipient wish.
About the Author
Robbie Miller Kaplan is an internationally recognized writer and speaker with an expertise in communications. She is the author of "How to Say It® When You Don't Know What to Say: The Right Words for Difficult Times," available in volumes on Illness & Death, Suicide, and Miscarriage and e-books on Death of a Child, Death of Stillborn and Newborn Baby, Pet Loss, Divorce, and Caregiver Responsibilities. Her blog "Making a Difference" and website are http://wordsthatcomfort.com.
# # #