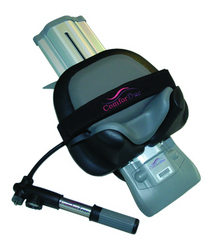 We continue to receive extremely favorable response by the medical community in the new international markets we enter, and we expect nothing less of our first exhibition in Dubai
Keysville, VA (PRWEB) January 22, 2008
ComforTrac, Inc. (ComforTrac) announced today that it will be exhibiting at Arab Health 2008, the premier healthcare event in the Middle East on January 28 to 31, 2008 in Dubai, UAE. ComforTrac will be located in Zabeel Hall, Stand ZP26.
"We continue to receive extremely favorable response by the medical community in the new international markets we enter, and we expect nothing less of our first exhibition in Dubai" said Christian Hunt, CEO, ComforTrac. "Regardless of market nuances, we have consistently found that medical professionals are highly impressed by our innovative product design and strong attention to customer service." added Hunt.
Precision engineering and innovative product design allows ComforTrac to produce cervical and lumbar traction devices that are extremely comfortable, easy to use, and highly efficacious.
"Our upcoming attendance at Arab Health 2008 is the next natural step in our international expansion, and we look forward to learning much more about the rapidly growing Middle East marketplace" added Hunt.
About ComforTrac
ComforTrac is the industry leader and manufacturer of home traction devices used in the sports medicine and rehabilitation market. ComforTrac is committed to innovative product design, quality manufacturing and a relentless pursuit of excellence in service to customers. For further information, visit ComforTrac
About Arab Health
The Arab Health exhibition and congress is the region's premier event for the Middle East bringing healthcare manufacturers, wholesalers, dealers and distributors together with some of the most important and influential decision-makers in the Arab world. For more information, visit Arab Health
###