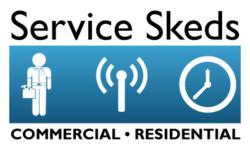 A lot more people are recognizing the long term value of mobile technology in field service management.
North Richland Hills, TX (PRWEB) September 27, 2012
Skeds, the technology leader in Field Service Management mobile software, enjoyed a successful and productive week meeting with industry experts, field service owners and managers at the Mechanical Systems Week (Comfort Tech) in Chicago, Illinois. Mechanical Systems Week (Comfort Tech) brought owners and managers of HVARC, Hydronics, and Plumbing firms together for a three day conference to preview the latest products and equipment from exhibitors.
Skeds located its booth near the exhibitor entrance which allowed for a high number of conference attendees to visit Skeds. Stephen Chambers, President, and Paul Vishnesky, VP of Sales, were at the conference were able to have conversations with industry stakeholders about how the Skeds mobile application can make dispatch easier and more efficient for service companies. "From conversations that we had at the show it's obvious that a lot more people are recognizing the long term value of mobile technology in field service management," said Skeds president Stephen Chambers. "It gives a field service firm a lot of advantages in communicating with the technician and also presenting information to the customer." A high number of attendees at the conference understand that the service management industry is moving towards a mobile platform and that their businesses will thrive with the use of the Skeds application.
Mobile technology use in service firms increases productivity and profitability fueling a rapid increase in demand for mobile solutions. Merely having access to email from a mobile device is not enough anymore; companies now must be able to integrate mobile devices such as laptops, tablets, and smartphones with their applications and software, in order to make it easier for businesses to communicate with their staff and their customers. Studies indicate that the use of mobile technologies is not limited to the younger generation as was once previously thought. The prime purchasers of mobile technologies are now 35-44 and 45-54 year olds. These two age brackets make up for a total of 51% of all business owners in the United States according to the latest Survey of Business Owners (SBO). This development marks an opportunity for Skeds to serve the field service management mobile market and distribute its product to the service management industry.
"After talking to a lot of people at the show, it seems that we are reaching a tipping point in the use of mobile technology," Chambers explained. "In 5 years a majority of service companies will be using a mobile product and Skeds is well suited to be at the forefront of this exciting development."
Skeds is a company that provides field service software to help businesses in the service industry to better manage their resources and offers software that is compatible with tablets, smartphones, and computers. Skeds software tracks technicians in the field, reduces data entry with digital documents, and tracks equipment history. More information about the benefits Skeds' field service management software provides can be found at http://www.skeds.com. Contact Skeds at sales(at)skeds(dot)com or call 657 444-SKED (7533).