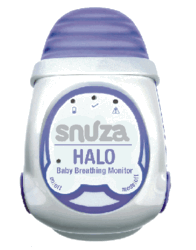 The rousing function gently vibrates against a child's tummy when their breathing falls, prompting a more regular beat.
(PRWEB UK) 7 December 2012
ComfyBabies are now one of the top main resellers of Snuza products in the UK. Snuza are a well-established, trustworthy brand made by BioSentronics in South Africa, with a team who have a vast knowledge of baby products and experts in design. Snuza can provide parents and carers with an exceptional quality baby movement monitors and video monitors, that rival other leading brands for audio and visual quality. All Snuza products are impressively safe, and require no wires or adapters that can be dangerous for young children. Many of their monitors have a wide range, which means parents can leave monitors running whilst in another room. Snuza products are easy-to-use, and are very durable. The company can assure customers that they adhere to the highest design standards, and incorporate only the best components available in their products.
As a leading UK retailer in baby products and accessories, ComfyBabies are now proud to announce their reselling of Snuza baby monitors. Available on their site are three monitors with different but equally impressive features. The Snuza Go! Is a monitor that includes all the classic features of a bedtime security accessory, such as a movement rate indicator and an alarm system for when a baby develops a low breathing rate. The Snuza Go! can be neatly clipped onto the waistband of a child to measure their breath count, without any discomfort. Snuza Halo, their flagship product and perhaps one of the most popular monitoring devices in the world, has all the great features of Go! but includes a rousing function. The rousing function gently vibrates against a child's tummy when their breathing falls, prompting a more regular beat. As with Go!, an alarm will sound when there is any danger.
For all the convenience of Go! and Halo, the Snuza Trio Complete Baby Monitoring System is also available. This trio of monitors includes a baby video monitor, which features digital wireless technology and a 2.4 " LCD panel for clear vision. Portable and rechargeable, the video monitor is the ultimate accessory for parents who worry about leaving their child unattended during rest. Unlike other video monitors, the Snuza Trio provides 100% free communication and privacy, without interference. ComfyBabies now stock all three recommended Snuza products at excellent prices.