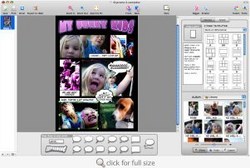 For the millions of Comic Life users around the world, this release will allow them to go deeper and further with their creations
San Francisco, CA (PRWEB) December 18, 2007
plasq today released Comic Life 1.4 for Mac, their Apple Design award winning program. This update features oft-requested brightness and other image fine tuning, iPhoto '08 'Events' and 1:1 display of images. This free update for all users also includes custom page sizes, jagged balloon tails, and neater caption positioning.
"For the millions of Comic Life users around the world, this release will allow them to go deeper and further with their creations," said Cris Pearson, plasq CEO. "For education, these features combined with the recent release of Comic Life for Windows, which can share documents with the Mac version, enable Comic Life to fit into schools better than ever" he continued.
Using the 'actual size' function allows full quality use of screen-resolution images, such as screenshots. Also included is improved custom page-size handling, custom page creation, overall improved image export enhancements and bug fixes. Comic Life 1.4 for Windows is in development. Many more changes can be found in the online change history for Comic Life.
About Comic Life:
Comic Life lets you create astounding comics, beautiful picture albums, how-tos... and more. The easy-to-use interface integrates seamlessly with your photo collection. Drag in your pictures, captions, Lettering text ('ka-blam!') and speech balloons and your work is done.
Comic Life requires Mac OS 10.3.9 and above or Windows XP Service Pack 1 or above. Comic Life files are transferable across Mac or PC. Comic Life Standard costs $24.95 and $29.95 for Comic Life Deluxe. Volume Education Licensing options are available.
30-day unhindered demo and instant download purchase directly from plasq at http://plasq.com/comiclife
About plasq:
plasq's focus on creating intuitive, powerful and fun software is perfectly illustrated by their award-winning 'Comic Life' and much lauded 'Skitch'. This exciting think-tank of developers and user interface designers unites talent from The United States, Australia, Austria, France and Norway to make beautifully-designed and useful tools.
###