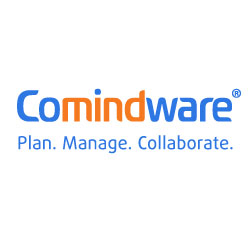 Comindware stands out because it enables department and project employees to automate processes associated to tasks and projects
Barcelona, Spain (PRWEB) September 03, 2012
Comindware is a web-based process automation, task management and issue tracking system that enables businesses to focus their team work and streamline project related processes.
The solution enables small and large businesses to configure and allocate workflows through an easy visual interface. A web services-based API makes it easy to integrate Comindware with any third party systems and services, such as CRM, ERP, EAM. The most frequently used systems that integrated with Comindware products are Salesforce CRM, Survey Gizmo, Sugar CRM, Oracle and Microsoft Dynamics.
GetApp has identified the unification of workflow automation and task management in a single solution as a key differentiator from competition. Additionally, the ability to customize any type of workflow makes the solution unique in terms of flexibility. The integration with Microsoft where users can assign tasks and track project communication through Outlook is also a unique feature from Comindware.
Comindware achieved the following ratings:
Overall: 9/10
Ease of use 3.5/5
Features 5/5
Value 4/5
Ease of deployment 4/5
"Comindware stands out from other collaboration solutions because it enables department and project employees to automate processes associated to tasks and projects, generating efficiency and productivity gains" said the GetApp reviewer.
To read the full review on GetApp, visit:
http://www.getapp.com/blog/comindware-tracker-review-workflow-task-management/
You can visit GetApp to test drive and deploy Comindware for free at: http://www.getapp.com/blog/comindware-tracker-review-workflow-task-management/
About Comindware
Comindware is a pioneer in collaborative work management software for teams across the enterprise. Its mission: to help people work together more effectively. Comindware was founded in 2010 and is led by a team of successful serial entrepreneurs with roots in several industry-leading software companies, including Acronis, Inc., Parallels, Kapersky Labs, as well as Apple and Embarcadero Technologies.
A privately-held firm, Comindware is headquartered in Silicon Valley and can be found at http://www.comindware.com
About GetApp
GetApp is the largest independent online marketplace that helps small to mid-sized businesses and startups discover, evaluate and manage the perfect cloud business apps for their needs. Its mission is to support millions of users in their "best app" research with comprehensive directories, interactive search tools, side-by-side comparison tables, user reviews and app evaluation resources.
In addition, GetApp serves as a global online marketing channel for thousands of cloud business application developers.
Headquartered in Barcelona, Spain, GetApp operates primarily in North America and the U.K. It is privately owned and backed by Nauta Capital
http://www.getapp.com