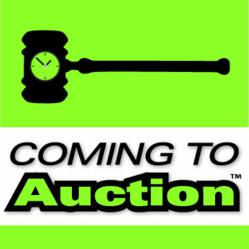 ComingToAuction.com is an entirely new way of advertising items earlier than normal in order to help our clients get to market faster and to get early exposure for all auction items
Ontario, Canada (PRWEB) October 21, 2012
In the past, auction buyers had to wait until an auctioneer announced a sale and then through their various avenues the auctioneer would promote the auction and the items in the sale. Most times an auction would be advertised 1-2-3 months in advance. This is all well and good but why not 4-5-6 months in advance? Or more…
Today, http://www.comingtoauction.com has announced their innovative new site that gives auctioneers and the public access to auction items well in advance of the actual auction. This gets buyers interested prior to an upcoming auction date and helps auctioneers get more money when the actual auction date arrives.
The pre-auction website allows both auctioneers and the public the chance to advertise and promote their mid to higher-end items, months before the item(s) actually go to auction. Not only is it fast and easy to use – it's FREE! "We wanted to create a pre-auction site so that auctioneers, the public and advertisers could post items and have a chance to sell or buy these items before the actual bidding process of the auction began," says Chris Davie, of http://www.comingtoauction.com. "This is an entirely new way of advertising items earlier than normal in order to help our clients get to market faster and to get early exposure for all auction items," he adds.
The site, which launched October 1, 2012 allows users to promote all of their pre-auction items such as antiques & collectibles, art, vintage cars, boats, musical instruments, coins and even 'weird stuff'. Now auctioneers, sellers and advertisers can promote their upcoming auction items and consider offers prior to the auction date. "This way, they have an opportunity to promote items for free and get to market earlier than ever before", Davies says.
It's easy to use the site and safe to post any item up to 90 days in advance of the auction and includes information such as the date of the auction, location of the auction, a link to the auction site and whether or not you're open to an advanced, private sale.
In addition the site is a great new tool for auctioneers everywhere, by listing their top auction items and a link to their web page, auctioneers will not only increase traffic but will have the bidders waiting for them when that special day arrives "Auction Day"!
Visit our website and Facebook page to learn more and to start advanced promotion of your auction items today.
W:http://www.comingtoauction.com
E: info(at)comingtoauction(dot)com
P:905-770-9937 or 450-230-7880