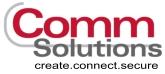 Create. Connect. Secure
Malvern, PA (PRWEB) August 13, 2012
Comm Solutions Company, one of the area's largest value added multi-vendor technology leaders, today announced that it is one of the first IT service providers to achieve the Aruba Networks ClearPass specialization.
By completing the sales and technical training and certification, Comm Solutions has demonstrated that it can sell, design and implement Aruba's ClearPass Access Management solution. Aruba's ClearPass Solution delivers unparalleled simplicity when managing and securing network access across wireless and wired networks and VPNs. ClearPass enables secure onboarding of any device onto any network, making it ideal for today's BYOD challenges.
"Comm Solutions' engineering team continues to excel in meeting partner requirements that aid in the success of customers," notes Paul Black, President and CEO, Comm Solutions Company. "I would like to thank our Mobility team for their hard work in attaining this certification. We have continued to distinguish ourselves in the BYOD market and Aruba Networks' ClearPass solution is another great offering for our customers."
"A critical component to Aruba's success is ensuring that our partners feel confident that they have the level of knowledge and training required to provide the right solutions for customers," said Ben Gibson, Chief Marketing Officer for Aruba Networks. "Having achieved certification on our ClearPass Access Management System, Comm Solutions can now better address the needs of enterprises enabling BYOD, helping them design the ideal network for their needs."
Visit Comm Solutions' website to learn more about things to consider with your BYOD initiative.
About Comm Solutions Company:
Comm Solutions, a leading IT Service Provider, is a network and systems technology integrator providing end-to-end solutions that ensure business integrity for enterprise-level clients. From design through deployment, Comm Solutions is an advocate for our clients to strategically align their business and IT objectives. We architect and implement IT solutions spanning computing infrastructure, enterprise management, and security. Comm Solutions works with our clients to architect and deploy simpler technologies that allow you to do more with less. Comm Solutions, a leading wan acceleration solutions provider, was founded in 2002 (Communication Cable Company established in 1974) and is currently headquartered in Malvern, PA. For real-time news updates follow Comm Solutions on Twitter and Facebook.
*Comm Solutions is the 2012 East Area Partner of the Year
About Aruba Networks, Inc.
Aruba Networks is a leading provider of next-generation network access solutions for the mobile enterprise. The company's Mobile Virtual Enterprise (MOVE) architecture unifies wired and wireless network infrastructures into one seamless access solution for corporate headquarters, mobile business professionals, remote workers and guests. This unified approach to access networks dramatically improves productivity and lowers capital and operational costs.
Listed on the NASDAQ and Russell 2000® Index, Aruba is based in Sunnyvale, California, and has operations throughout the Americas, Europe, Middle East and Asia Pacific regions. To learn more, visit Aruba at Arubanetworks.com. For real-time news updates follow Aruba on Twitter and Facebook.