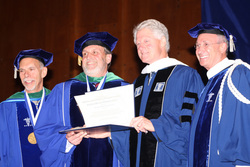 One of the great challenges of the age is to reduce the disparity between wealthy and poor countries.
New York, NY (Vocus) May 14, 2010
Mount Sinai School of Medicine at its 41st commencement ceremony today honored a former president, legendary scientists in the field of genetics and human genome research, and renowned humanists whose work has advanced biomedical research and provided much needed access to health care both locally and internationally. President Bill Clinton was among the honorees, and also addressed an audience of nearly 200 Mount Sinai graduates as commencement speaker.
Held at Avery Fisher Hall at Lincoln Center, the event reflected Mount Sinai School of Medicine's commitment to being a world leader in genetics research, and in providing patient care reaching across international borders. The graduating class embodies Mount Sinai's dedication to translational science, medical advocacy, and the mentoring spirit that has transformed medical education. A total of 198 degrees were granted, including 116 MDs, 33 PhDs, 18 MPHs, and 31 MS degrees.
In his address, President Clinton cited the mapping of the human genome as crucial moment in medical history, and challenged the Class of 2010 remain committed to public health.
"One of the great challenges of the age is to reduce the disparity between wealthy and poor countries. Bridging that gap will help determine the future of the world we all live in. Never before have we been in a position to do such good. See yourselves in whatever health field you choose as agents of positive change," President Clinton said.
President Clinton was honored for his contributions to the developing world and the underserved communities in the United States, including those served by Mount Sinai. Through the William J. Clinton Foundation, President Clinton focuses on health issues that demand urgent action, solutions, and measurable results, ranging from HIV/AIDS in the developing world to childhood obesity in the United States. After the earthquake in Haiti, President Clinton established the Clinton Bush Haiti Fund (CBHF) with President George W. Bush to respond to unmet needs in that country.
Dennis S. Charney, MD, Dean of Mount Sinai School of Medicine and Executive Vice President for Academic Affairs of The Mount Sinai Medical Center, described how because of rapid advances in the field of human genetics the graduates were likely to participate in the most profound biomedical revolution in history.
"The opportunity for innovation in biomedicine has never been greater," he said. "There is strong evidence that investments in biomedical research can improve the health of the nation, can bend the health care cost curve, and revitalize the economy.
"Physicians will diagnose disease and provide personalized treatment based upon genetic data. By knowing the genes that cause human disease, prevention of illness will become a reality. The classification of human disease based upon genetic profile will accelerate the discovery of safer, more effective therapies," said Dr. Charney.
Dr. Charney credited President Clinton with laying the foundation for this future by investing, as president, in the research that would ultimately map the human genome.
Peter W. May, Chairman of the Mount Sinai Boards of Trustees, encouraged the graduates to always remember to put the patient first. "During your time here, you were trained and mentored by internationally-acclaimed physicians and scientists who taught you how to put the patient first. As you now go out into the world, you have the chance to take what you have learned and make a tremendous impact," he said.
Kenneth L. Davis, MD, President and Chief Executive Officer of The Mount Sinai Medical Center, challenged graduates to always strive for answers as problems in health care continue to grow across the country. "In the next few years, The Mount Sinai Medical Center, and in the near future each of you, will be faced with challenges that will test your values, and the oath you will take today. Leave here with the same values that attracted you to Mount Sinai, which Mount Sinai practices every day, and that will hopefully guide you in the turbulent times that lie ahead," he said.
Doctor of Humane Letter degrees were given to four pillars in the local and international communities for providing access to quality care:

William J. Clinton was the 42nd President of the United States from 1993-2001. His current activities include support for a range of humanitarian causes through the William J. Clinton Foundation, its Global Initiative, and its Climate Change Initiative. President Clinton was named the United Nations Special Envoy to Haiti in 2009, and teamed with President George W. Bush to create the Clinton Bush Haiti Fund in the aftermath of this year's earthquake. President Clinton will be this year's Commencement speaker.
Jim Yong Kim, MD, PhD, is the 17th President of Dartmouth College. He has been a Professor of Medicine and Social Medicine and Chair of the Department of Global Health and Social Medicine at Harvard Medical School. He was a co-founder, and later Executive Director, of Partners in Health along with Dr. Paul Farmer. Dr. Kim served as director of the Department of HIV/AIDS at the World Health Organization (WHO). In this role, he led the "3x5 Initiative," which sought to treat three million new HIV/AIDS patients in developing countries with antiretroviral drugs by 2005. Launched in September 2003, the ambitious program ultimately reached its goal in 2007. Dr. Kim is the first Asian-American to assume the post of president at an Ivy League institution.
Merryl H. Tisch, EdD, was elected Chancellor of the New York State Board of Regents by her colleagues in the spring of 2009. She was first appointed to the Board in 1996. Dr. Tisch was a first grade teacher in New York in the late 1970's and early 1980's and continues to devote much of her time advancing education. She serves on the boards of numerous non-profit agencies, including the United Jewish Appeal and the Metropolitan Council on Jewish Poverty, where she is the Chair.
James S. Tisch is President and CEO of Loews Corp., a holding company that is one of the largest diversified financial corporations in the United States. The company was co-founded by his father, Laurence (Larry), and his uncle, Preston (Bob). Mr. Tisch is currently Chair of The Campaign for Mount Sinai. He serves on the Boards of United Jewish Appeal, the Partnership for New York City and the Educational Broadcasting Corporation. In the fall of 2008, the Tisch Cancer Institute was established at Mount Sinai with a gift of $40 million from Merryl and James Tisch. Their philanthropy has also benefited a wide array of organizations including Harvard and Brown Universities, Public Television, United Jewish Appeal and the Robin Hood Foundation, and the United States Holocaust Memorial Museum.
Doctor of Science honorary degrees were given to two pioneers in the biomedical sciences:
J. Craig Venter, PhD, is responsible for mapping the first human genome in 2000 and is regarded as one of the leading scientists of the 21st century for his numerous contributions to genomic research. His group has sequenced the human genome and the genomes of more species than any other. More recently, he has directed his innovative genome-based efforts to public health and environmental challenges, including developing novel strategies for genomic medicine, CO2 depletion, and biologic energy production.
Shinya Yamanaka, MD, PhD, a practicing surgeon, has had an outstanding research career in the field of pluripotent stem cells, with numerous seminal contributions. Dr. Yamanaka was the co-discoverer of the Nanog gene that encodes a key regulator of pluripotent stem cells. Several years ago he showed that adult cells could be reprogrammed to pluripotent stem cells called induced pluripotent stem cells. In 2008, he successfully established human induced pluripotent stem cells, representing a sea change discovery in the field. Dr. Yamanaka was awarded the Albert Lasker Award for Basic Medical Research for his work in 2009.
About The Mount Sinai Medical Center
The Mount Sinai Medical Center encompasses both The Mount Sinai Hospital and Mount Sinai School of Medicine. Established in 1968, Mount Sinai School of Medicine is one of few medical schools embedded in a hospital in the United States. It has more than 3,400 faculty in 32 departments and 15 institutes, and ranks among the top 20 medical schools both in National Institute of Health funding and by U.S. News & World Report. The school received the 2009 Spencer Foreman Award for Outstanding Community Service from the Association of American Medical Colleges.
The Mount Sinai Hospital, founded in 1852, is a 1,171-bed tertiary- and quaternary-care teaching facility and one of the nation's oldest, largest and most-respected voluntary hospitals. In 2009, U.S. News & World Report ranked The Mount Sinai Hospital among the nation's top 20 hospitals based on reputation, patient safety, and other patient-care factors. Nearly 60,000 people were treated at Mount Sinai as inpatients last year, and approximately 530,000 outpatient visits took place.
For more information, visit http://www.mountsinai.org.
###