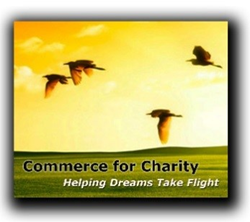 We are excited about 2015 and seeing these schools and nonprofits flourish.
SAN DIEGO, CALIFORNIA (PRWEB) January 23, 2015
Kevin Lofthus, of Commerce for Charity, is expanding his new, innovative donor approach that brings together everyday business activities with earning donations for charity programs. This simple method allows businesses and people to work together, each donating a bit of their time and money. The best part of this funding solution, is that it solves the challenge that many people face today in our difficult economy, having available money to donate. Commerce for Charity has created a method that makes it easy for people to give 90-minutes of their time to a business in exchange for a $150 donation to their favorite charity. There is no obligation to make a purchase – simply attend a vacation ownership tour.
Lofthus stated, "Several years ago it became clear to me while watching all the organizations and schools I work with, that "begging" for money was outdated, and inefficient. I knew there had to be a better way for them to raise money, and on that day I committed myself to developing a NEW WAY for schools and nonprofits to obtain funding. The vacation ownership model is the first of many innovative opportunities we have created. We are excited about 2015 and seeing these schools and nonprofits flourish."
The mission of Commerce for Charity is "Helping Dreams Take Flight." This organization uses a turn-key method to use everyday commerce to help charities earn donations. This program is being made available to any person that is looking for an opportunity to help the charity of their choice. In turn, the program connects people who are willing to spend a little of their time with selected business partners in order to earn a donation for the organization of their choice. To learn more about how Commerce for Charity helps dreams take flight, go to the website http://www.commerceforcharity.com/index.html. If you are a supporter of an organization, please visit the SUPPORTERS PAGE, to get information on how you can earn a donation for the organization you support. If you are an organization in need of funds, please visit the ORGANIZATIONS PAGE to get information on how you can receive a donation from Commerce for Charity.
Please contact Kevin Lofthus at (619) 906-8224, email customerservice(at)commerceforcharity(dot)com or https://www.facebook.com/Commerce.for.Charity