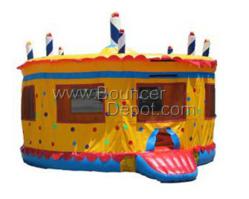 Made in the USA. Commercial Grade Bounce House
Pacoima, California (PRWEB) October 16, 2011
Bouncer Depot, US based commercial bounce house manufacturer, recently announced their Fall Bounce House SALE in anticipation of new inventory arrivals for Spring. Over the past 10 years, Bouncer Depot has established its foothold as the industry leader in manufactured bounce houses, inflatable water slides and inflatable jumpers.
Why are the commercial bounce houses offered by Bouncer Depot considered industry leaders? Bouncer Depot continues to manufacture leading bounce house products through the use of cutting edge technology, a strong team of designers and innovative design concepts.
Bounce houses, inflatable jumpers were created generations ago, as the first form of inflatable fun!! Most of us remember bouncing at a school carnival, friend's birthday party or community picnic. It is surprising to see how far the industry has taken this original entertainment concept of inflatable square box jumper. Bouncers today, also known as moon bouncers, inflatable moonwalks, moon jumps and jump houses, are available in a wide variety of sizes, shapes, colors and design styles.
Modeled after another popular toy, the 'Slip and Slide', inflatable waster slides combine the bounce feature of the original houses, with the ever popular water entertainment feature of the slide. While designed to use with water, these bounce houses can also be used to entertain in their dry state. The original concept was created for backyard entertainment, but party supply owners can find commercial inflatables for sale as well, great for company picnics, fundraisers and large group outings.
Whether consumers are seeking a bounce house or inflatable water slide for their next party or company event, they are sure to find what they are looking for, as http://www.BouncerDepot.com offers the largest selection of inflatable water slides, bouncers and obstacle courses available within the marketplace.

Shopping with Bouncer Depot is associated with a number of benefits, including:
Products that are 100% manufactured within the U.S.A.
3 year warranty on all products purchased
30 day return policy on all purchases
Price match guarantee on all commercial bounce house purchases
Available financing options
Online shoppers can sort selections by category type (Bounce Houses, Inflatable Sliders, Water Slides, Combo Bouncers, Obstacle Courses and Inflatable Games), price, or by currently listed sale items. All standard forms of payment are accepted, and financing is available for qualified purchases.
Should someone find herself unable to locate the perfect bounce house, commercial inflatable water slide or inflatable jumper within our online inventory selection, please note that we would be happy to discuss a custom order to fit your precise needs and budget.
To shop Bouncer Depot's Fall sale, or to view their entire inventory of bouncer products, visit http://www.BouncerDepot.com.
About Bouncer Depot:
Founded over 10 years ago, Bouncer Depot is now considered to be the industry leader in manufactured bounce houses. Using cutting edge technology, a strong design team and innovative design concepts, Bouncer Depot produces the largest selection of inflatable water slides, bouncers and obstacles available in today's marketplace. The company is proud to manufacture all products within the U.S.A. For more information about Bouncer Depot, please visit http://www.BouncerDepot.com.
###