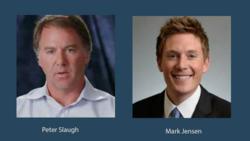 San Francisco, CA (PRWEB) May 29, 2013
This month, Steelhead Capital has announced the guest will be Mark Jensen, Investment Specialist at Newmark Grubb ACRES in Salt Lake City, Utah. Leading the interview will be Peter Slaugh, Managing Director of Steelhead Capital. The topic will be current market trends within the multifamily investment space.
Mark Jensen is a top producing investment broker with 10 years experience in the field. Mark is a member of the national C&W Alliance Capital Markets Team and has closed over $270 million in commercial real estate transactions since 2004. While he has experience and real time activity in all CRE sectors, Mark has sold over 1,414 apartment units in the past five years alone. Continually a top producer for his previous company, Cushman & Wakefield | Commerce, Mark was in the top 5 in the company for the last two years before joining Newmark Grubb ACRES in 2013.
Mr. Slaugh was a founder and principal of Steelhead Capital in 1998 and now serves as Managing Director of this San Francisco-based commercial mortgage banking platform. Prior to founding Steelhead Capital, Mr. Slaugh originated commercial loan transactions for all property types at GMAC Commercial Mortgage. Over the last decade, Mr. Slaugh has originated well in excess of $1 billion in commercial real estate debt/mezz debt and equity transactions. His extensive knowledge of the capital markets significantly enhances the firm's ability to aggressively leverage acquisition and renovation costs in order to maximize investor returns.
The podcast is scheduled to air on SteelheadCapital.com on June 1, 2013 and is free for listening and download to all visitors.
About Steelhead Capital:
Since 1998, Steelhead Capital has been a premier provider of commercial loan financing solutions and advisory services for commercial real estate investors. Steelhead Capital brings an extensive network of lending sources, structured finance experience with a focus on acquisitions, and a clear commitment to personalized customer service for investors financing properties in any of the 50 states.
For additional information about Steelhead Capital or to submit a no-obligation commercial loan request, please visit SteelheadCapital.com/application or contact Mr. Peter Slaugh at 1-800-713-9220.