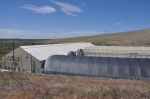 The potential for creating a low cost greenhouse business is huge
Coeur d'Alene, Idaho (PRWEB) May 10, 2013
Realty Auction Services LLC announced that water could turn into cash for the new owner of White Arrow Ranch's commercial greenhouse. This commercial greenhouse for sale, heated by natural hot springs, located in Bliss Valley, Idaho, will be sold at auction to the highest bidder, regardless of price, on Thursday, May 16, 2013 by Realty Auction Services, LLC.
This 42,000-square-foot greenhouse sits on 45 acres and can be bid on as a separate entity or in combination with the White Arrow Ranch house. But what makes this greenhouse truly special is the budding prospect of its commercial potential for low cost greenhouse applications or even as a water-bottling plant. The greenhouse's highest bidder receives a 50 percent share of the White Arrow Mineral Hot Springs, one of the country's largest privately-owned geothermal hot springs. Independent water quality reports have supported the potential for bottling this water source for drinking. In fact, the auction's winner will have access to a business plan for converting the greenhouse into the plant itself. And with the springs actually working to heat the greenhouse, operating costs for the plant would be reduced as well.
"With this healthy supply of natural spring water, the potential for creating a low cost greenhouse business is huge for the new greenhouse owner," said Randy A. Wells, Realty Auction Services, LLC. "It's a huge advantage that there's no need to construct a new building for housing the plant either, as the greenhouse can already serve that purpose."
Scientists believe the water of the mineral hot springs had been confined below Earth's crust for over 12 thousand years. Over time, rare minerals from the surrounding rocks and sediment enriched the water producing a healthy and mineral-rich water source. And because the springs pump out around 1.3 million gallons of water each day, the water is in a seemingly never-ending supply.
"The greenhouse is unique in that it provides a possible major source of revenue for the new owner," Wells said. "And those who bid on both the ranch house and the greenhouse have the chance to live and work on the same property. It makes for the perfect work-life balance."
The White Arrow greenhouse presents a unique opportunity for those bidders interested in starting a new business venture. For more information, please visit Realty Auction Services.
About Realty Auction Services
Realty Auction Services "NationWide", a MarkNet Alliance Company, has specialized in real estate auctions since 1997 and has conducted real estate auctions for many individuals, attorneys and mortgage companies. In addition, Realty Auction Services has also worked with seller owners in association with: Keller Williams, Coldwell Banker, Windermere, Prudential, GMAC, ReMax, Century 21, United Country, Exit Realty, Interstate Brokers, LLC and Idaho Country Properties.
Contact:
Randy Wells
Realty Auction Services, LLC
208-699-7474