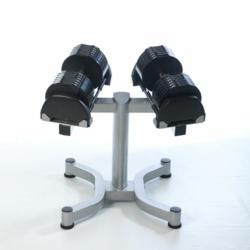 The Quickloads are one of those rare products, something that takes an already great concept and makes it even better
(PRWEB UK) 18 July 2012
Health Clubs at Home are happy to announce that they have a new product to offer. The Quickload 222 adjustable dumbbells are a fantastic new contender in the health and fitness scene. There is a huge range of benefits to having adjustable dumbbells. The most obvious benefit is the fact that one pair of dumbbells is the equivalent to many separate pairs, but all in one neat package. At the flick of a switch they have the ability to grip on to, or release, weight plates. This quick and simple mechanism means that less time is wasted in between workouts, and more time is spent actually working out.
The benefit using them as home gym equipment is the size of them. With full weight attached they are 22kg, but there is the choice of 6 different increments from 2.2kg up to the 22kg max weight. This makes the Quickloads a very versatile piece of kit. The good variety of weight increments means that this one pair of dumbbells can be used in a variety of different exercises.
However, all of this doesn't mean that they cannot be used in a commercial setting. This is the perfect tool for a personal trainer who maybe travels to clients and can't carry a set of dumbbells around. Not only would that be financially impractical, but it would also be a huge strain trying to transport so much weight around. So by making the Quickload 222 a part of a commercial gym equipment setup, then it can lead to a more efficient business strategy.
Health Clubs at Home MD Howard Braband spent years as a Personal Trainer and knows the importance of a smooth workout. 'After spending several years as a Personal Trainer I was always searching for ways to make workouts smoother and more efficient. It is not an ideal situation when you are trying to train a client and you are searching for dumbbells or you are standing in a collection of weights that all have to be put back, further disrupting the workout. I wish that the Quickloads were around then, it would have made a huge difference to so many factors of the workout. That's why I am so happy to help bring them to the UK now; I know they will make a difference.'
Quickload 222 Adjustable dumbbells are one of those rare items that takes a great concept and makes it fantastic.
If you are interested in getting the Quickload 222's for your home gym or business, then please feel free to contact Howard Braband on 0808 2314876, or visit http://www.healthclubsathome.com