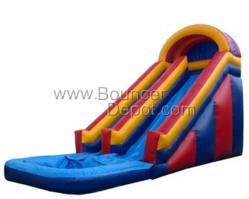 20 Ft Front Load Inflatable Water Slide by BouncerDepot.com
(PRWEB) September 12, 2011
Summer time is synonymous to fun time in countries where the season lasts for a short period. In the US, while summer vacation is nearing its end, a few weeks of sunshine are still remaining. Making sure that people can enjoy summer at its best, BouncerDepot.com presents a special package consisting of commercial bounce houses and slides at a highly affordable price.
Bouncer Depot offers a complete listing of products and packages along with their prices. Since Bouncer Depot is a US based inflatable manufacturer, their website offers all the products at wholesale prices. According to the spokesperson for Bouncer Depot, "While September puts a sad end to the vacation season, the summer is still here for a few days. School will make it hard to plan for a beach trip now, so why not enjoy with our inflatable water slides? And if that is not enough, we have got amazing packages of inflatable bouncers at wholesale prices."
While bounce houses and slides are quite popular commercially, many people prefer buying one for their own backyard. They offer a more healthy and entertaining activity for kids especially when compared to other in-house activities such as video games. The packages offered at BouncerDepot.com also offer a good bargain for customers who wish to buy bounce houses for their home.
There are around seven packages available on BouncerDepot.com. While most of them are perfect for commercial usage, some inflatable moonwalks and jumpers are also fit for private customers as well. Commercial inflatables usually include huge slides and large sized bouncing houses. Private customers, however, can choose from a variety of sizes available according to their own requirements. "From the 32 foot inflatable slip and slide to a 14 feet jumbo bouncy slide for your backyard, you can find it all here", added the spokesperson. These packages also include blowers and other accessories within the given price.
Moreover, the website is also offering a discounted sale on individual products. "What if their backyard isn't big enough to accommodate the whole package" added the spokesperson. "We believe all of our customers deserve equal opportunities, hence, a special sale on a number of individual inflatables too."
Bouncer Depot offers a three year warranty for all of its products. Also, each bounce house will be sold with a 30 day return policy. Customers can easily navigate through the products listed on the website in order to find the bouncer or package that fits their requirements. The website is constantly updated.
In order to take a look at the bouncing castles for sale and inflatable slides for sale, you can take a look at the pictures and details available on the Bouncer Depot's website http://www.bouncerdepot.com
About Bouncer Depot
Bouncer Depot is a USA based manufacturer of inflatable bounce houses and inflatable slides. Bouncer Depot offers a variety of designs and sizes for both commercial and private use. Bouncer Depot is trusted for their durable and unique products and competitive prices. For more information, please contact using the following details.
###