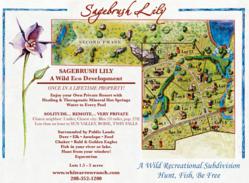 All of the lots have their own special elements that make for a beautiful and unique subdivision.
Coeur d'Alene, Idaho (PRWEB) May 13, 2013
Realty Auction Services LLC announced that a commercial land development dream awaits as Realty Auction Services, LLC offers an approved but undeveloped subdivision of White Arrow Ranch in Bliss Valley, Idaho on Thursday, May 16, 2013.
Known as Sagebrush Lily, this land, which is situated at the far southern tip of White Arrow Ranch, has been dedicated to the development of a secluded subdivision. Eighty wild and tranquil acres cover this property that has been divided into two phases. Phase one has been approved but unrecorded for 16 lots spanning 40 acres. Each lot ranges in size from 1.5 to 3.5 acres and includes a number of desired features from elevated, river-front views to private islands. Some lots even offer space for helipads if desired.
"All of the lots have their own special elements that make for a beautiful and unique subdivision as a whole," said Randy A. Wells, Realty Auction Services, LLC.
Phase two of the development will have 10 lots ranging from two to five acres. Lots from both phases have the potential to sell individually or kept as a whole for your very own 80 acre home site.
The natural beauty of Sagebrush Lily is reflective of its name, taken from a rare flower that grows near the Idaho sagebrush. The entire subdivision has been left in its original state and features a year-round stream, lakes, plant life and trees that all contribute to a strong wildlife population. Its location is perfectly situated on the southern tip of the White Arrow Ranch.
Sagebrush Lily's also includes a 25-percent share of the geothermal mineral hot springs, which is one of the largest privately-owned mineral hot springs in the country, these same springs serve White Arrow Ranch in several ways including heating the rooms of the ranch house and filling its pool and hot tub. The springs may be able to make similar contributions to the subdivision.
"The potential exists for the springs to supply heat to future homes of the Sagebrush Lily subdivision," Wells said. "It could be a huge selling point for lot buyers as they'd have the opportunity to save a ton of money each year on home-heating costs with the use of the springs."
This property's winning bidder will have the opportunity to create a true one-of-a-kind subdivision with unique, sought-after features. For more information, please visit Reatly Auction Services.
About Realty Auction Services
Realty Auction Services "NationWide", a MarkNet Alliance Company has specialized in real estate auctions since 1997 and has conducted real estate auctions for many individuals, attorneys and mortgage companies. In addition, Realty Auction Services has also worked with seller owners in association with: Keller Williams, Coldwell Banker, Windermere, Prudential, GMAC, ReMax, Century 21, United Country, Exit Realty, Interstate Brokers, LLC and Idaho Country Properties.
Contact:
Randy Wells
Realty Auction Services, LLC
208-699-7474