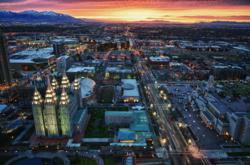 Utah had some pretty high foreclosure statistics from the economic implosion – where does your region stand relative to recovery in the housing market as well as the job market?
San Rafael, CA (PRWEB) May 31, 2013
In the upcoming June podcast Mark Jensen, Investment Specialist at Newmark Grubb ACRES, shares his latest deal-making insights with interview and host, Peter Slaugh, Managing Director and founder of Steelhead Capital.
In this 30 minute podcast, questions about commercial real estate financing trends will include:
1. What's your focus within the commercial real estate industry?
2. Can you talk about the Salt Lake market recovery – where are you today, where were you the last few years?
3. How does SLC compare to other markets around the country?
4. Are you seeing investors coming from out of town, or is it largely a local's game?
5. Describe the various profiles of investors – large and small – and are the larger players all national players or do you have your share of local large investor/developers?
6. Are we back to a Seller's market where Buyers are competing aggressively like many other regions?
7. My sense is that there's limited supply and Sellers are not willing to sell their assets given that prospective buyers will underwrite the Past vs. the Future – can you comment on that?
8. How do you advise clients relative to growth prospects in your region? What do you see in the way of sustainable growth going forward, or do you feel otherwise.
9. Utah had some pretty high foreclosure statistics from the economic implosion – where does your region stand relative to recovery in the housing market as well as the job market?
10. Further – what industries are spurring your recovery – I believe SLC has some of the lowest unemployment in the country – what's driving that.
11. What are you seeing thats unique to the recovery or nuances that you might want to share.
To hear Mark's timely responses along with the rest of this exclusive interview, investors and media members are encouraged to visit SteelheadCapital.com/news where the entire podcast will be available on June 1, 2013.
Mark Jensen is a top producing investment broker with 10 years experience in the field. Mark is a member of the national C&W Alliance Capital Markets Team and has closed over $270 million in commercial real estate transactions since 2004. While he has experience and real time activity in all CRE sectors, Jensen has sold over 1,414 apartment units in the past five years alone. Continually a top producer for his previous company, Cushman & Wakefield | Commerce, Jensen was in the top 5 in the company for the last two years before joining Newmark Grubb ACRES in 2013.
Peter Slaugh was a founder and principal of Steelhead Capital in 1998 and now serves as Managing Director of this San Francisco-based commercial mortgage banking platform. Prior to founding Steelhead Capital, Slaugh originated commercial loan transactions for all property types at GMAC Commercial Mortgage. Over the last decade, Slaugh has originated well in excess of $1 billion in commercial real estate debt/mezz debt and equity transactions. His extensive knowledge of the capital markets significantly enhances the firm's ability to aggressively leverage acquisition and renovation costs in order to maximize investor returns.
About Steelhead Capital:
Since 1998, Steelhead Capital has been a premier provider of commercial loans and real estate loan financing solutions for commercial real estate investors. Steelhead Capital brings an extensive network of lending sources, structured finance experience with a focus on acquisitions, and a clear commitment to personalized customer service for investors financing properties in any of the 50 states.
For additional information about Steelhead Capital or to submit a no-obligation commercial loan request, please visit SteelheadCapital.com/application or contact Peter Slaugh at 1-800-713-9220.