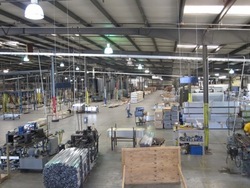 As a result of this merger, we are now positioned to be the best equipped, most competitive commercial railing company on the market
Lumberton, NC (PRWEB) July 29, 2010
Sentinel Fence Company of Lumberton, NC, is pleased to announce the acquisition of Mill Direct Railing Company. The merger promises to provide increased production, better prices, and access to the highest quality aluminum fence, vinyl fence, and commercial railing products in the industry.
Mill Direct customers will continue to enjoy the same friendly sales staff in the Highpoint NC facility. By teaming up with industry leader Sentinel Fence, Mill Direct patrons will enjoy faster turnaround times, better finishing, and a limited lifetime warranty on all products. Sentinel Fence's 120,000 square foot state of the art manufacturing facility means more options, lower prices, and higher quality products for Mill Direct customers.
"As a result of this merger, we are now positioned to be the best equipped, most competitive commercial railing company on the market," said Matthew Feeko, owner of Sentinel Fence Company.
Mill Direct customers will now enjoy the state of the art aluminum powder coating process used on all Sentinel Fence products. The environmentally friendly electrostatic powder coating process creates a durable coating that protects against even the harshest of weather conditions. The unique powder coating process exceeds the stringent requirements set forth by the American Architectural Manufacturers Association, resulting in a maintenance-free fence that to resists corrosion and fading.
"We are excited to welcome Mill Direct customers into the Sentinel Fence family. We assure that they will continue to receive the friendly faces and friendly service they are accustomed to while enjoying even higher quality products, faster turnaround times, better pricing, and stronger warranties," said Feeko.
Consumers can purchase aluminum fence, vinyl fence, or railing directly from Sentinel Fence's direct-to-consumer website, GlobalFenceAndGate.com. Through this direct from manufacturer outlet, consumers throughout the United States have access to top-quality, American made fencing solutions.
About Global Fence and Gate:
Global Fence and Gate (http://www.GlobalFenceAndGate.com) is a leading supplier in aluminum fence, vinyl fence, aluminum estate gates, aluminum railing and aluminum arbors. The company prides itself on its excellent customer service record and the quality of its 100% American made products.
# # #