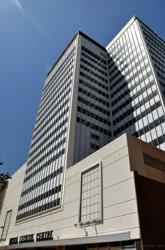 The project had been written off as impossible by lenders around the country, as well as by local politicians and other Wichita residents.
Scottsdale, AZ (PRWEB) May 31, 2011
Gauntlet Commercial Real Estate Capital ("GCREC") has successfully secured a senior loan for the landmark, 19-story, Wichita Executive Centre located in the heart of Wichita, Kansas. In a transaction already being called the "Deal of the Year" by commercial real estate insiders, GCREC, led by Managing Partner, Michael Clinton, was able to secure the mortgage after Wichita Executive Centre's developers Michael Elzufon and David Lundberg of Minnesota based Real Development had worked on the refinance for a number of years. The refinance was hugely important to the city of Wichita, as well as for Real Development to move forward with another $52 Million dollar project called "Exchange Place," also located in Wichita.
The Wichita Executive Centre (formerly known as the SC Telcom Building) is a 19-story office building with a 5-story parking garage. The center includes a second tower that once operated as a hotel. Built in 1963, the subject property is a key component of the Wichita skyline. The poured concrete and steel building houses 220,875 square feet of net rentable office space in the "Tower" area of the building; 91,464 square feet of hotel space; and a 164,260 square foot parking garage. The difficulty for lenders surrounding the transaction was multi-faceted, including the first which was the location. The Real Development team has been a catalyst to the urban renaissance in Wichita, but that has recently slowed tremendously due to the poor lending markets. "Overcoming investor reactions to third tier markets like Wichita is exactly the type of capital challenge we do our best to work through," says Cayson Metz, Gauntlet Managing Partner. While Wichita's renaissance is being largely led by the efforts of Real Development, the location has a long way to go before it is considered a strong secondary market. The property is 68% leased and is also sitting on ground leases, another major issue. Real Development was able to use the capital to pay off three liens and $1.9 Million dollars owed to contractors for work already completed on the building. In order to make the transaction a little more palpable for the insurance company who provided the end loan there was also a Kingsland, Georgia hotel acquisition that was roped into the refinance that GCREC is now looking to sell.
The original loan request was for more than $8 Million dollars on the asset which had previously appraised for $14 Million. Squeezing that budget into a $5.6 Million dollar mortgage took a bit of creative genius that also included several life insurance policies scheduled to pay out in the next three to five years. "This sends a poignant message to every developer and commercial property owner in the country who is having occupancy issues or has a discount being offered on their debt or who is struggling because of liquidity issues, to call us for bridge financing" said GCREC Managing Partner, Clinton.
The transaction was first announced on Saturday by The Wichita Eagle on April 30th and is getting attention from the Mayor of Wichita, Carl Brewer, as the city has some $10.5 Million dollars allocated for Real Development on other projects that could not be utilized without this transaction being completed. The project had been written off as impossible by lenders around the country, as well as by local politicians and other Wichita residents. "The Minnesota Guys" as they are known locally began buying up properties in 2005 in and around Wichita, but Wichita Executive Center is the marquee building in their portfolio. In response to GCREC's efforts, developer Dave Lundberg simply stated,"I am very grateful."
The closing is well timed for GCREC and Real Development who are now looking to do more deals together. GCREC recently raised $120 Million dollars via a JV Partnership for the deployment of debt in California. The fund is specifically created for providing twenty-four to thirty-six month bridge loans at rates as low as 9% throughout California. Given those mandates, the two groups are now looking to take advantage of the renaissance in downtown Los Angeles. At this point an acquisition of a vacant building and conversion to mixed use, multi-family, restaurant, parking structures, or hospitality are all possibilities that they are considering. "We are looking for equity investors and property owners in downtown Los Angeles to possibly joint venture with or who are looking to sell," said Elzufon.
Gauntlet Commercial Real Estate Capital is a boutique investment banking firm based in Scottsdale, Arizona with a presence in Southern California. The firm provides and invests both debt and equity for commercial real estate transactions nationwide. The firm specializes in creative financing solutions for particularly unique circumstances while also providing conventional funding for strong borrowers in stabilized properties.
###