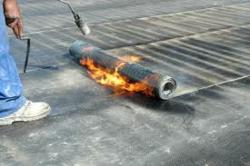 The Roof Link Inc. company has designed its commercial services for rapid response in Duval County and surround communities in the Jacksonville, FL area.
Jacksonville, Florida (PRWEB) October 05, 2012
Commercial roofing companies are the group of professionals that are a must hire for a business owner. A residential roofing company typically is not licensed to perform commercial roofing repair work. One Florida roofing company has expanded its roof repair and replacement services into the commercial roofing industry. Roof Link Inc. is now offering commercial roofing contractors in Jacksonville, FL services to business owners. These services are necessary for business owners that require leak repair, roof upgrades or general roof related work completed. The Roof Link Inc. company contractors are licensed for commercial roof repair in Florida. More information can be found by visiting this link http://www.roofingjacksonvilleflorida.com/commercial-roofing-contractors-jacksonville-fl.
Commercial buildings typically have different building codes compared to a residential structure. Both state and local ordnances can require certain types of materials to be installed on a roof to meet safety guidelines. A commercial roofing company must seek a specific type of license in order to perform work for commercial entities.
The state of Florida currently has higher ratios of residential roofing companies compared with commercial ones according to state data. Both in severe weather times and during the hurricane season can make it difficult to find commercial roofers. The Roof Link Inc. company has designed its commercial services for rapid response in Duval County and surrounding communities in the Jacksonville, FL area.
Roofing material manufacturing companies often perform safety testing before new products are available for use on the market. While a typical home can rely on asphalt shingles, many businesses in the state of Florida use flat roof systems. This is a design effort and safety code regulation to help improve efficiency as well as occupant safety in buildings.
The various types of roofing materials made are graded numerically depending on if installation will be in a hurricane zone. Roof Link Inc. contractors often meet with building owners and managers to determine the best type of flat roof material to use that provides safety and additional cost saving benefits.
One of the disadvantages to roof repair or new installation scheduling is the downtime that a company can experience. For small business owners, ceasing operations for extended periods of time to allow sufficient time for roofing work can be costly. An accurate roofing assessment of the work that needs to be completed is one of the best ways that a small business can use to help estimate the length of downtime.
Roof Link Inc. contractors now offer fast estimates from the quote form located on the Roof Link website.
Small business owners or building owners that would like to obtain more information about Roof Link can visit the following address:
Roof Link Inc.
2730 Isabella Blvd.
Suite 50
Jacksonville Beach, FL 32250
(904) 900-2801
http://www.roofingjacksonvilleflorida.com/blog
About Roof Link Inc.
Both commercial roofing and residential roofing services are now offered by Roof Link Inc. to North Florida residents. The roofing experts that have been hired and are referred by Roof Link have been helping local business owners and homeowners in Florida for over a decade. By offering affordable repair and replacement services, Roof Link Inc. has quickly gained notoriety as one of the best values in the Jacksonville, FL area. Roof Link matches homeowners and business owners with qualified and state licensed contractors. This service has now expanded into the majority of North Florida communities as well as parts of Georgia and Southern Florida.