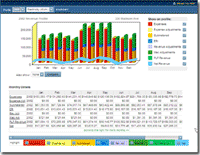 Display functions selected will poll relational databases and generate instantaneous, near real time reports.... revealing one of the holy grails of energy management...
Manhattan, New York City (PRWEB) November 30, 2012
On paper, Genergy, Inc. - a Manhattan based firm that recently exited chapter 11 after a drawn out legal showdown (US Bankruptcy Court, case no. 10-15622) - is perhaps the most unlikely player to take on a NYC iconic Commercial Smart Building Technology giant. But teaming up with Archangel Energy Group, Genergy announced that it has launched its signature service, the Power Grid Identification, or PGI for short, at the Empire State Building - but with a new age twist.
The PGI first hit NYC's Real Estate Market in the early 80's - long before Commercial Smart Building Technology was part of our everyday energy vernacular. Blending traditional technical investigative services with then considered new computer aided design (CAD) software, the PGI offered building operators a color coded schematic that could, in one fell swoop, map incoming power, allocate utility meters, map building feeders, reveal downstream sub meters, locate dormant or underutilized feeders, identify areas of energy waste, maximize energy resale revenue, and minimize emergency shut down response time. The PGI was an instant hit among managers and operators, but as the company rolled out its product, a new, unexpected raving fan base emerged.
As computerized office spaces emerged, power needs increased and leasing agents were routinely pressed to answer resource availability questions, a task that - prior to the PGI - required an onsite survey each instance. But surveys performed on a case by case basis proved to be costly, were limited to the area surveyed and therefore could not account for downstream or upstream power usage, and required time, delaying the leasing process, the lifeline of any commercial office building.
By mapping a feeder's complete path, from point of origin to its termination point, the PGI revolutionized leasing. Accurate, building wide, all systems inclusive, floor-by-floor watt per square foot reports were quickly introduced and put in the hands of leasing agents. Leasing agents, it turned out, gained the most form PGI reporting. Service requests skyrocketed. In 1989 the company trademarked the term PGI, and by the mid 90's the company surveyed a whopping 250M square feet across the tri-state area.
Today, Genergy remains a leader in timely, accurate, and guaranteed watt per square foot reporting.
Earlier this month Genergy confirmed that it has commenced PGI services at the Empire State Building and that, through it's partnership with Archangel Energy Group, who operates under the name myEnergyPlatform.com, the 1980's born PGI is finally ready to meet new age Commercial Smart Building Technology systems.
"We anticipate that through the integration of Patented technology, moving forward the PGI will be on screen and alive. Display functions selected will poll relational databases and generate instantaneous, near real time reports showing not only the maximum capacity available, which is already a PGI standard, but contrast the maximum deliverable against actual metered usage, thereby revealing one of the holy grails of energy management – not the max power available, not the actual power used, but the balance of power. This is just one of the features intend for the new age PGI. Needless to say," Archangel's Founder Davide Gristina concludes, "we're very excited."
About Genergy:
Genergy has been providing innovative, state of the art energy management services since 1984 and was first featured in Better Buildings in 1988. Along with electric meter reading and utility billing services, Genergy provides infrastructure management, power availability studies, energy analytics, metering system design services, and meter procurement, installation and maintenance. The firm and its principals, now teamed with Archangel Energy Group and offering services as myEnergyPlatform.com, are the owners of US Patent numbers 7,069,161 and 7,668,671, both related to the energy management field. For more information, contact us at (888) The-Platform.