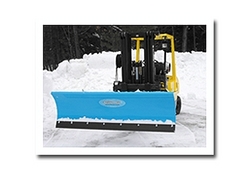 The question is… what doesn't it do?
Canterbury, NH (PRWEB) November 24, 2010
CP Innovations announces the first power angle snow plow for forklifts. By utilizing existing equipment, businesses can minimize snow removal costs and take charge of their commercial snow plowing needs.
Whether it's big snow, a difficult lot or the need to plow during business hours, the Chinook Forklift Snow Plow is a serious solution for Commercial Snow Plowing. Fork trucks used in daily operations switch from working inside, to snow removal outside. And, it's as simple as lifting a pallet.
The Chinook Forklift Snow Plow was created, in part, to clear snow from areas too difficult for a pick-up to handle. Piling snow, turning on a dime and getting close to obstacles are not the virtues of a typical plow truck... Chip Phinney of CP Innovations, LLC developer of the Chinook Fork Plow says "You need to see it… it's really cool… everyone's surprised by what it can do."
Featuring a 7 ft plow blade expandable to almost 9 ft, the Chinook Fork Plow is built to handle the most demanding winters. Its versatility is endless. From clearing roads and parking lots to plowing areas that normally need to be hand shoveled.
Available in two models, Power Angle which employs the side shift hydraulics to actuate the plow blade and a Manual Angle model operated from the cab. Both options simply slip onto the fork tines of most fork trucks, ready to plow at the operators' convenience. Ken Blackford of Arc-works.net who owns a small, older fork truck with solid tires, says "It works great… I'm actually amazed!"
CP Innovations also offers carbide tipped traction screws as an alternative to rough riding tire chains. Originally developed for automobile ice racing, these traction screws provide a smooth ride as they grip the ice and snow.
CP Innovations, LLC is a web based company that manufactures Chinook Fork Plows and ships all products direct to their customers in the US and Canada.
###