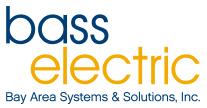 San Francisco, CA (Vocus/PRWEB) July 15, 2011
BASS Electric announced today that it is a full-service TEGG Service provider and employs certified electricians / technicians who have and will continue to receive extensive annual testing and maintenance training. The TEGG partnership, which began in 2004, helps BASS Electric provide electrical preventative maintenance on all property types including data centers, healthcare facilities, financial institutions, government buildings, and commercial and industrial buildings.
As a TEGG Service provider, BASS Electric provides preventive maintenance services for industrial and commercial facilities. These services include: inspection by licensed electricians, infrared thermography, de-energized services, voltage and current diagnostics, power quality analysis, ultrasonic service, and electronic documentation. TEGG Service is uniformly performed at each contractor location based on TEGG's training, computerized instruction, and comprehensive record-keeping.
After evaluating a facility, BASS Electric as a TEGG Service provider can develop a systematic approach to repairing and maintaining electrical equipment, resulting in a decreased risk of electrical fire, property damage, and business interruptions.
About TEGG Corporation
TEGG Corporation was founded in 1992, and its core business is for the purpose of protecting commercial and industrial facilities from electrical system failures, electrical fires and resultant business interruptions and property damage through the implementation of unique and comprehensive electrical preventive and predictive maintenance functions. TEGG Corporation implements programs through an international network of independently owned, select premier local electrical contractors. TEGG Corporation corporate headquarters are located in Pittsburgh, PA, USA with over 170 locations worldwide. For more information, visit them on the web at tegg.com or call (412) 394-7400.
About BASS Electric
BASS Electric is a San Francisco Bay Area commercial electrical contractor that specializes in commercial electrical construction, commercial solar system design and installation, infrared scanning and testing, commercial electrical maintenance, and arc flash coordination studies. BASS Electric provides services in the San Francisco Bay Area and across the nation. For more information, call BASS Electric at (415) 578-9894 or visit them on the web at basselectric.net.
###