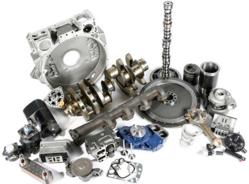 The available parts include import and domestic editions that are sold for reduced customer prices.
Albany, New York (PRWEB) June 08, 2013
Larger pickup trucks produced by import and domestic automakers represent a respectable portion of global auto sales. Owners of heavy duty trucks typically rely upon mechanics and dealerships to provide replacement parts. The AutoProsUSA.com company is now supplying used commercial truck parts for direct sale online. The growing inventory of parts now for sale includes essential drive train, exterior and interior parts at http://autoprosusa.com/used-truck-parts-for-sale. The available parts include import and domestic editions that are sold for reduced customer prices as an alternative to dealerships and third party sellers.
The core components used for commercial vehicle manufacturing includes engines, transmissions, chassis and trans-axle parts. Some automakers produce parts for direct application and others outsource the manufacturing. Distribution companies typically provide retailers with options for selling commercial grade auto parts.
The Auto Pros company launched its online website to offer easier solutions for finding parts without the research process required. The tools now published on the company website help to remove research for finding sale pricing and stock status for popular replacement parts.
This company has installed its quotation tools for immediate use online. The company search tool is now paired along with this quote system to provide commercial and non-commercial parts lookup. The inventory sourced from company suppliers is now listed in the searchable database. Buyers now use parts' year and make to locate all sale pricing and stock status information online.
The use of these tools provides a set of alternatives to using the company toll-free number as one contact method to receive similar information. Company specialists continue to monitor the toll-free line at 1-888-230-1731 for buyers not using or unable to find listed parts online.
The integration of commercial auto parts now for sale are in response to the build up of non-commercial parts that has taken place through the first half of this year. The Auto Pros USA company has improved the amount of essential ignition and electrical system parts this year. The news release announced on the Internet at http://www.prweb.com/releases/flywheels-transmissions/used-flywheel-for-cars/prweb10748239.htm was used to inform parts buyers of the new transmission parts that are offered for immediate sale. These types of parts can be purchased by car owners or mechanics unable to find flywheels or transmission components using local retailers in the United States.
The contact information for the Auto Pros company has recently been changed to reflect the new location and telephone contact numbers available. All inquiries from suppliers or customers concerning parts and pricing can now be forwarded directly to the following address:
Auto Pros USA
1270 Crabb River Rd.
‪Richmond, TX 77469
(888) 230-1731
(713) 560-7017
About AutoProsUSA.com
The AutoProsUSA.com company supplies immediate consumer access to its growing auto parts database on the Internet. Special arrangements parts suppliers and other distributors have helped make the inventory one of the largest currently searchable. The preowned parts types now shipped to U.S. destinations includes components for cars, sport utility vehicles and trucks. The AutoProsUSA.com company employs its automotive staff to supply higher levels of customer service helping to answer questions both by telephone and online. The redesign of the company website has made navigation simpler and information easier for buyers to obtain.