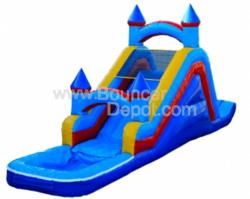 Castle Style Commercial Grade Inflatable Water Slide
Los Angeles, CA (PRWEB) January 28, 2012
Bouncer Depot, one of the largest manufacturers who offers commercial water slides, bounce houses, moonwalks, inflatable jumpers for sale and many other inflatable structures, offers an exceptional opportunity for bounce house rental business owners to advertise their service in their website for free. "Every day thousands of people across the United States search our website for a reliable bounce house rental company and we want to connect these people with rental business owners who offer such service. This is our way of thanking all those rental companies who keep these industry growing " said Steve Johnson, Bouncer Depot representative.
Bouncer Depot also helps those entrepreneurs who wish to start their own business but have limited information and resources. One of the most popular New Year's resolutions in America is to become an entrepreneur. Each year, thousands of people vow to leave the corporate world and go into business for themselves. But the biggest problem entrepreneurs face is the failure rate of original small businesses. Even so, small business experts claim that an economic recession is actually a good time to become an entrepreneur—for those who have sound business ideas.
Franchising offers greater stability for small businesses
While it's not franchising in the technical sense of the term, the business opportunities provided by Bouncer Depot are based on proven models. Starting a business would involve an initial investment on the part of the prospective entrepreneur in purchasing the equipment, but wholesale pricing keeps the investment relatively low. Additionally, anyone interested in running bounce house rental business could start out with just one inflatable structure, which would still enable them to start making money right away.
The most well-known use of inflatable structures is for renting to children's parties. However, there are more diverse opportunities for the creative entrepreneur, such as Bouncer Depot's line of adult-sized commercial bouncers for sale.
Entrepreneurs might also consider renting inflatable structures to businesses during sales, special events, or any time they're looking to attract more customers. For example, a membership-based gym might rent commercial inflatable jumpers as a convenience for parents who'd like to bring their children along when they work out.
Surprisingly, Bouncer Depot offers more than moon jumps for sale with their business opportunities. Unlike most wholesalers, the company provides aspiring entrepreneurs with marketing support in the form of ready-made banners, and entries into their active rental database.
Not just for business purposes
For several years, Bouncer Depot has been one of the few manufacturers of inflatable structures that has offered them for general public purchase at wholesale prices. The company sells bounce houses, inflatable slides, castles, obstacle courses, and moonwalks to all types of online consumers.
About Bouncer Depot
Bouncer Depot, based in Los Angeles, California, is an industry leader in the manufacturing of commercial grade inflatable bounce houses. In business for more than 10 years, the company has pioneered many of the developments in the inflatable jumper industry through innovation and cutting-edge technology. All Bouncer Depot products are made with pride in the United States and come with a three-year warranty, the longest in the industry.
For more information about business opportunities, visit BouncerDepot.com.
###